MAMOI® Indoor climbing frame for toddlers, Wooden baby gym, Play gym rocker toys made of wood for toddler, Rockers montessori climbing frame age 1-3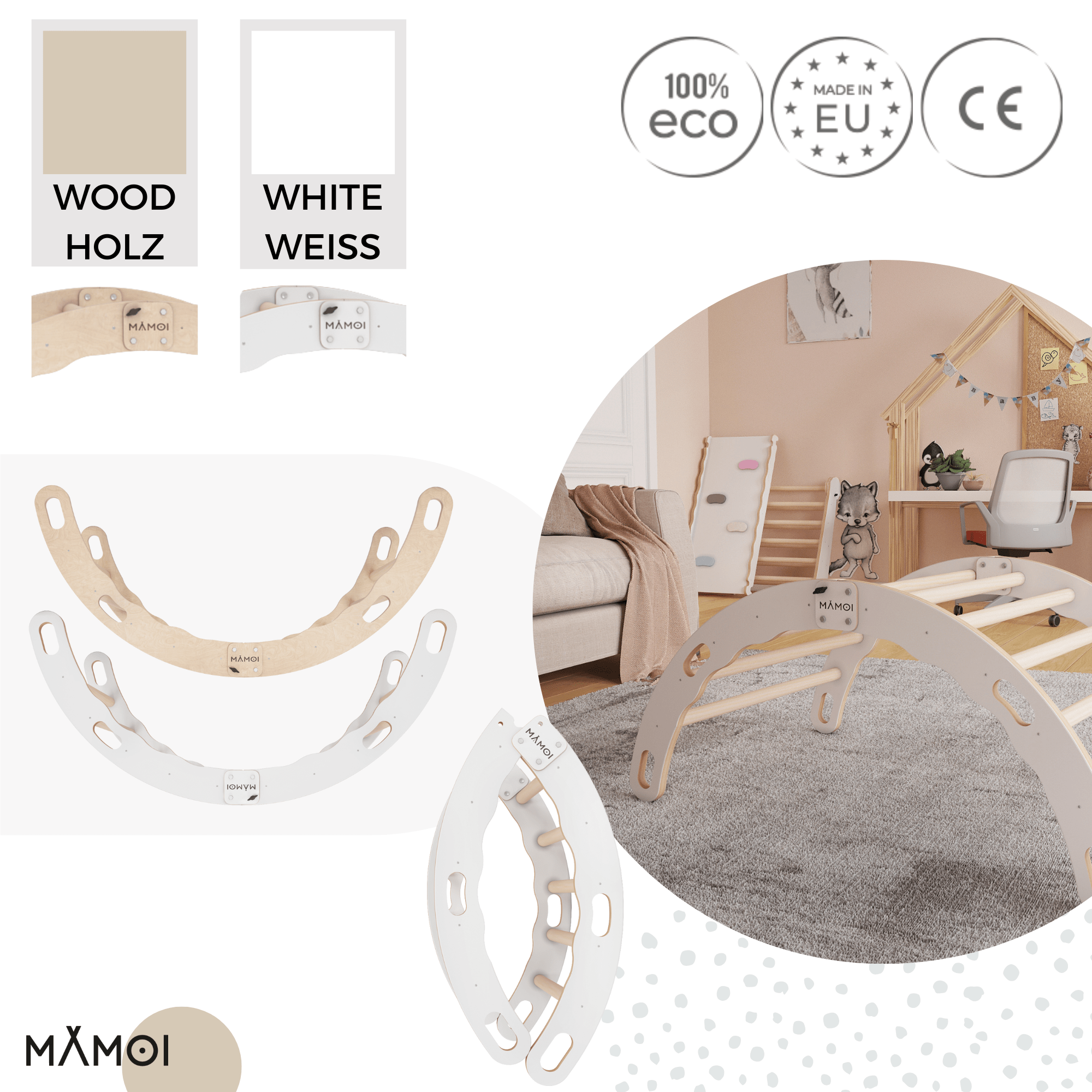 ✔ The indoor climbing frame for toddlers ensures safe play at home and in the garden. The toddler climbing frame meets the strict safety standards of EN and CE marking. The toy is made of high-quality beech wood, a Yarnwood board and plywood. The elements are connected by steel screws. The wooden baby gym frame is very durable and can be used as a swing as well as a small ladder.
✔ The baby climbing frame is made of eco-friendly materials such as natural wood and plywood treated with organic, child-friendly preservatives. No toxic paints or varnishes used in production. All elements of the wooden climbing frame indoor impress with raw wood look. All pieces are neatly ground and CNC-cut.
✔ Our climbing frame for toddlers age 1-3 is a multifunctional toy, which can be used either as a climbing ladder or a cradle. This product is suitable for use by children over 36 months of age, depending on their weight (up to 50 kg). Toy intended for self-assembly. The rungs are protected against weather conditions. The toddler rocker can also be completed with a indoor slide.
✔ Simple and modern design of the baby rockers fits into every child's room decor. The edges of the indoor play gym are decorated with a wave-shaped cut-out. The wood climbing frame is protected from tipping over on both sides. The walls are decorated with drilled holes forming a circle. The side walls are finished with a white Yarnwood.
✔ The product can be used outdoors, but should be stored in a dry and clean place. Due to the natural materials, it must not be exposed to adverse weather conditions such as rain or snow. The manufacturer is not responsible for non-compliance with the storage conditions of the toy instructions.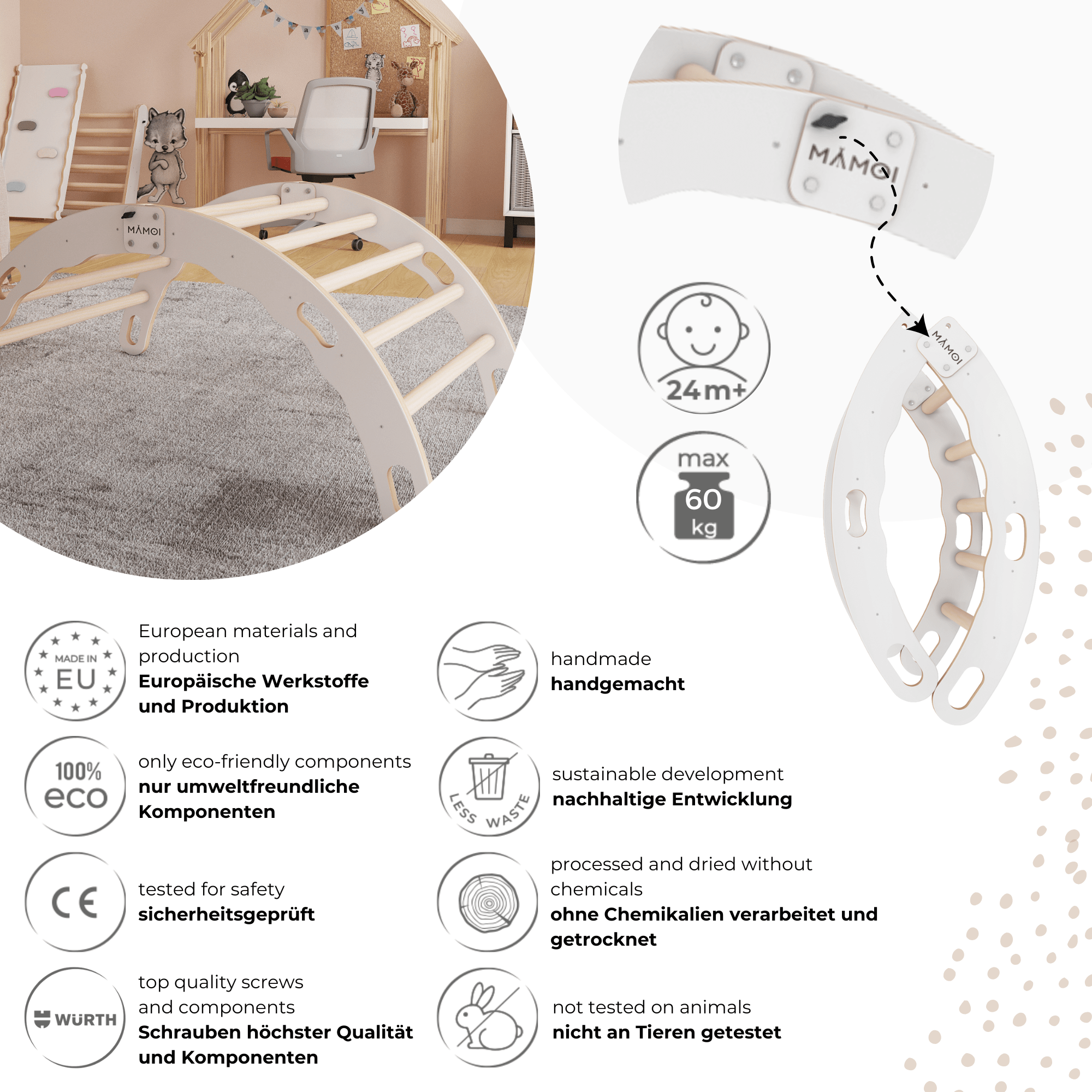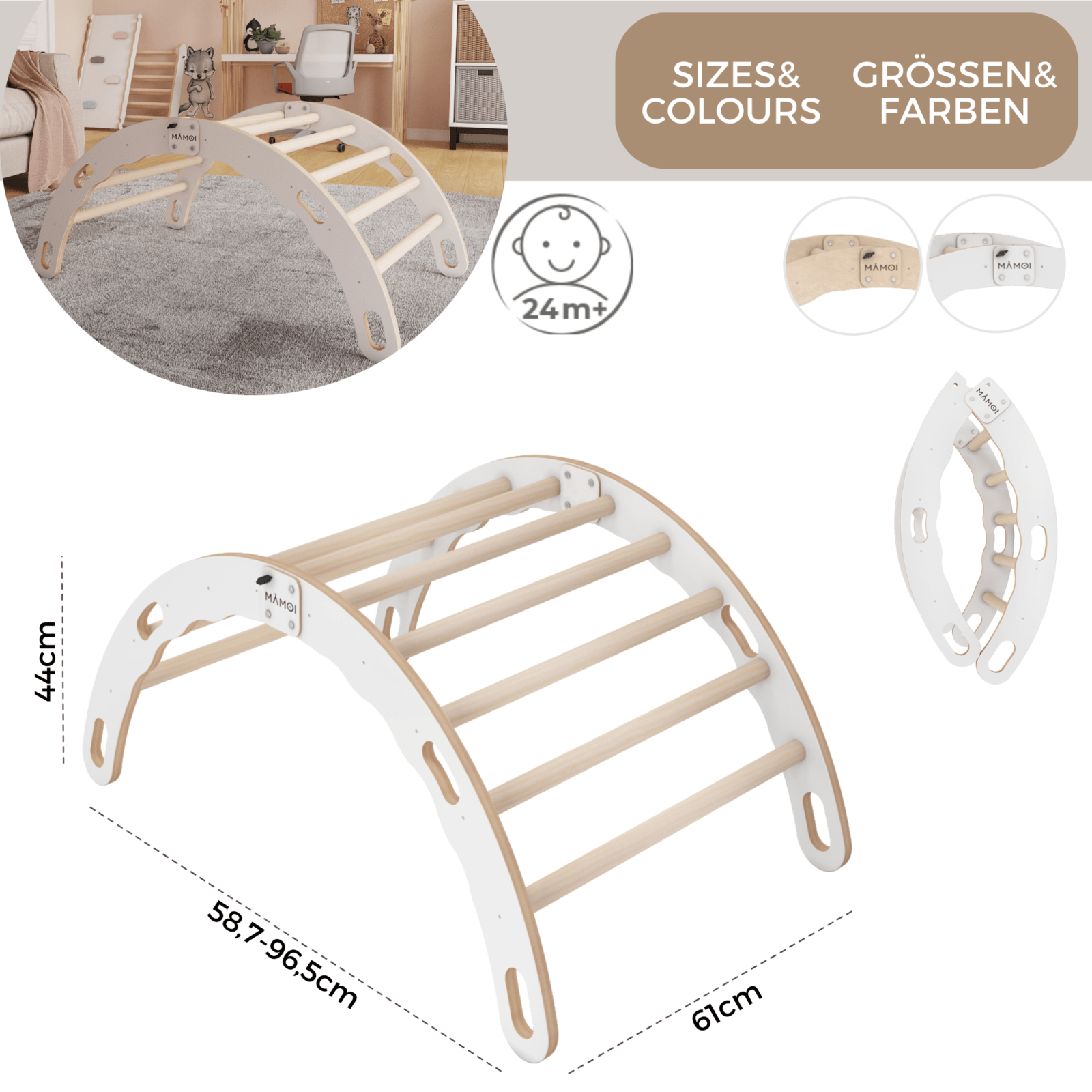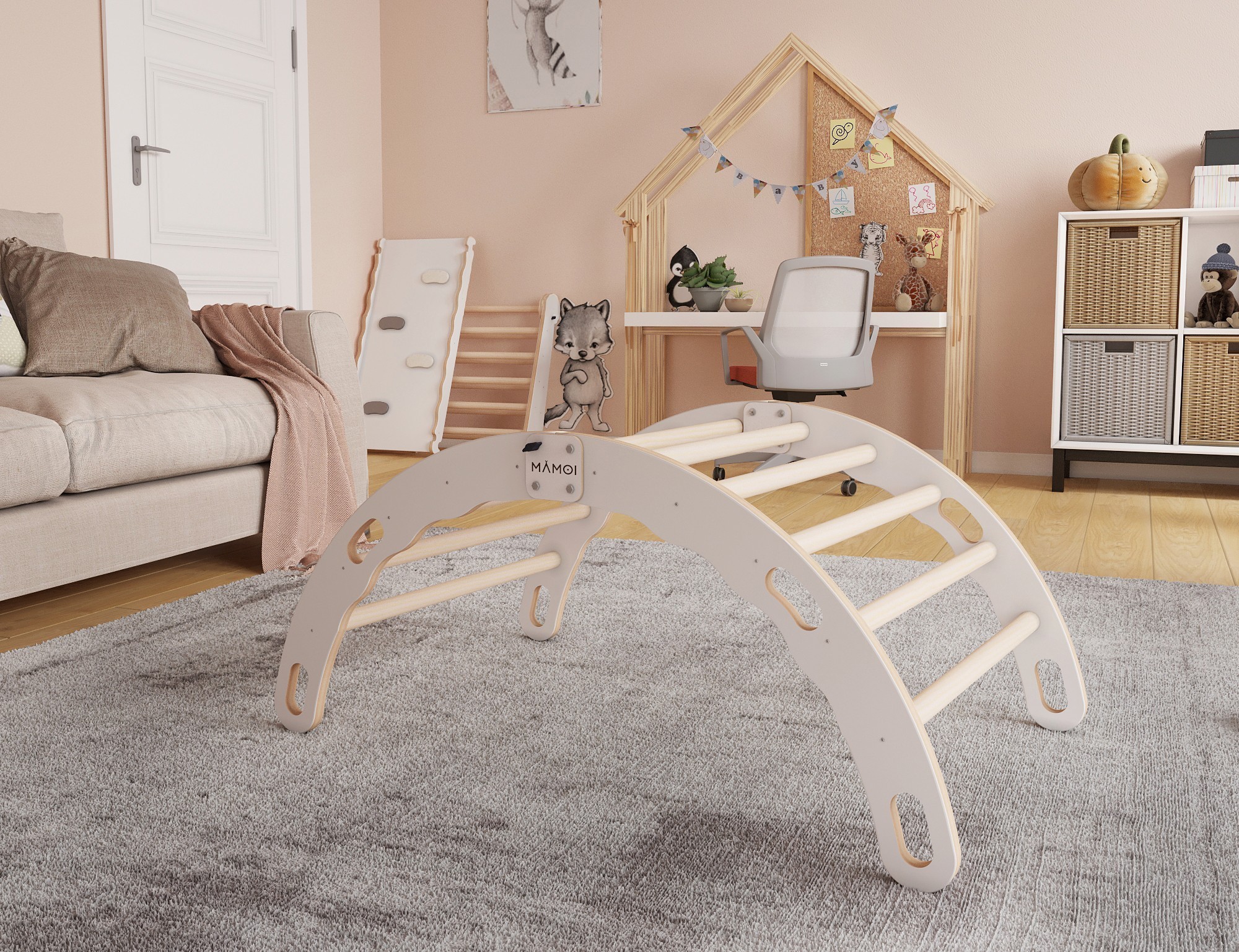 The wooden play gym is a product designed for the youngest children and with a view on supporting their psychomotor development. The MAMOI brand bets on ecological materials and workmanship of the highest quality, thanks to which customers will receive only the best products that meet strict European standards.
2-in-1 climbing frames: it can be used as a climbing triangle or a rocker. The frame is made from natural pine wood and plywood. Raw resources are secured using ecological products that are harmless for children and environment. All elements are thoroughly cut (CNC) and finished. When you move the arc upwards, you will receive a covered climbing tower while turning the toy allows you to use it as a rocking crib. There are stoppers located on both sides to protect a cradle from tipping over.
The product is suitable for children over 36th month of age. The toddler climbing frame indoor is suitable for play, but also helps developing motor skills of the whole body, as well as grabbing and climbing skills. Plywood with a natural finish. The edge of the toddler gym is decoratively wave-shaped.
Also know as: indoor slide for toddlers age 1-3, toddler slide, kids' indoor climbers & play structures, montessori toys, pikler triangle, pickler climbing triangle, pikler triangle with slide, baby slide, climbing frames for children outside, outdoor climbing frames for children, wooden outdoor play equipment, kids climbing frame, wooden slide