MAMOI® Wooden baby swing seat for toddlers Beige, Indoor toddler swings chair from birth, Kids baby bouncer for garden, Child rocker swing set from 8 months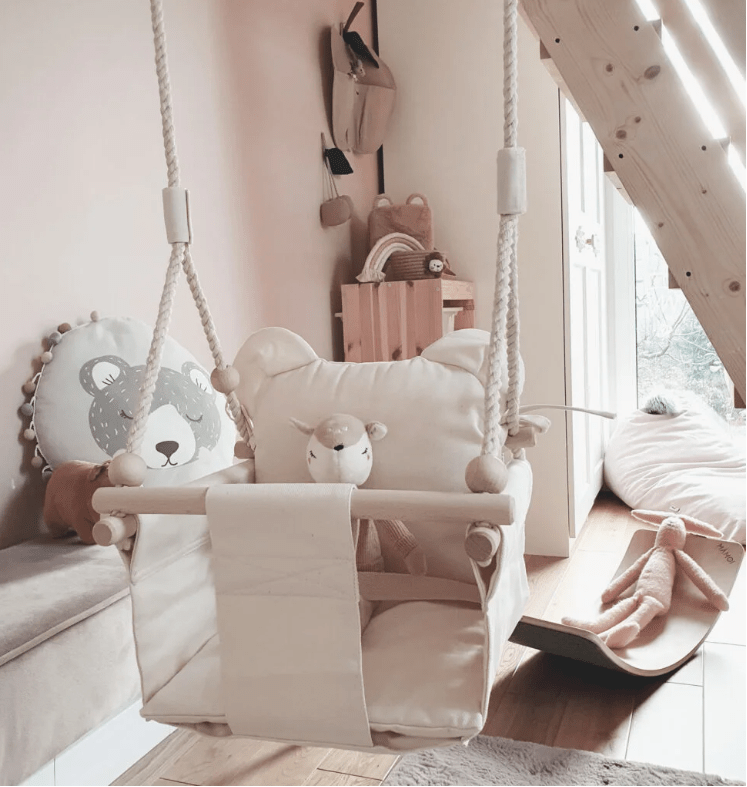 ✔ MAMOI has prepared a unique product for you – the first baby swing seat equipped with a new type of safety hip belt that protects your child from falling. This is why MAMOI toddler swing is an exceptional on the market. This baby bouncer offers a lot of fun and guarantees the highest level of safety. MAMOI sensory swing set is recommended for children from 8 months to 3 years. Our baby swing chair can even carry a load of up to 25 kg.
✔ MAMOI indoor swing is made of the highest-quality ecological materials. For a base, we use the soft cotton fabric of 210 g/m² that is sewn by the solid french seams, which guarantees the highest level of safety and durability. All parts are sewn from coarse two-layer cotton with a close-meshed knitted fabric. The fabric has not been dyed and has never come in contact with any strong and irritating detergents. IMPROVED STABILISATION
✔ All wooden elements of the toddler swing seat are made of selected solid beech wood and have not been varnished. The wood is sanded and polished with the utmost precision. A raised backrest provides additional protection and support for your child. Round wooden beams are attached to the rope and located above the holes through which the rope is pulled. Thanks to a filled with sponge seat section, our wooden swing keeps its shape and always looks beautiful – even when not in use!
✔ Your child can play safety with all wooden parts of the toy – they are not painted and have been exceptionally carefully sanded and polished. The MAMOI baby swings can be assembled after unpacking. The indoor baby swing can be hung on the cotton ropes and metal rings. The cotton rope can take a load up to 400 kg. The rope must be pulled through the holes in the frame of the swing for baby and knotted – this allows to easily adjust the length of the rope to the room's height.
✔ The product can be used outdoors, but should be stored in a dry and clean place. Due to the natural materials, it must not be exposed to adverse weather conditions such as rain or snow. The manufacturer is not responsible for non-compliance with the storage conditions of the toy instructions.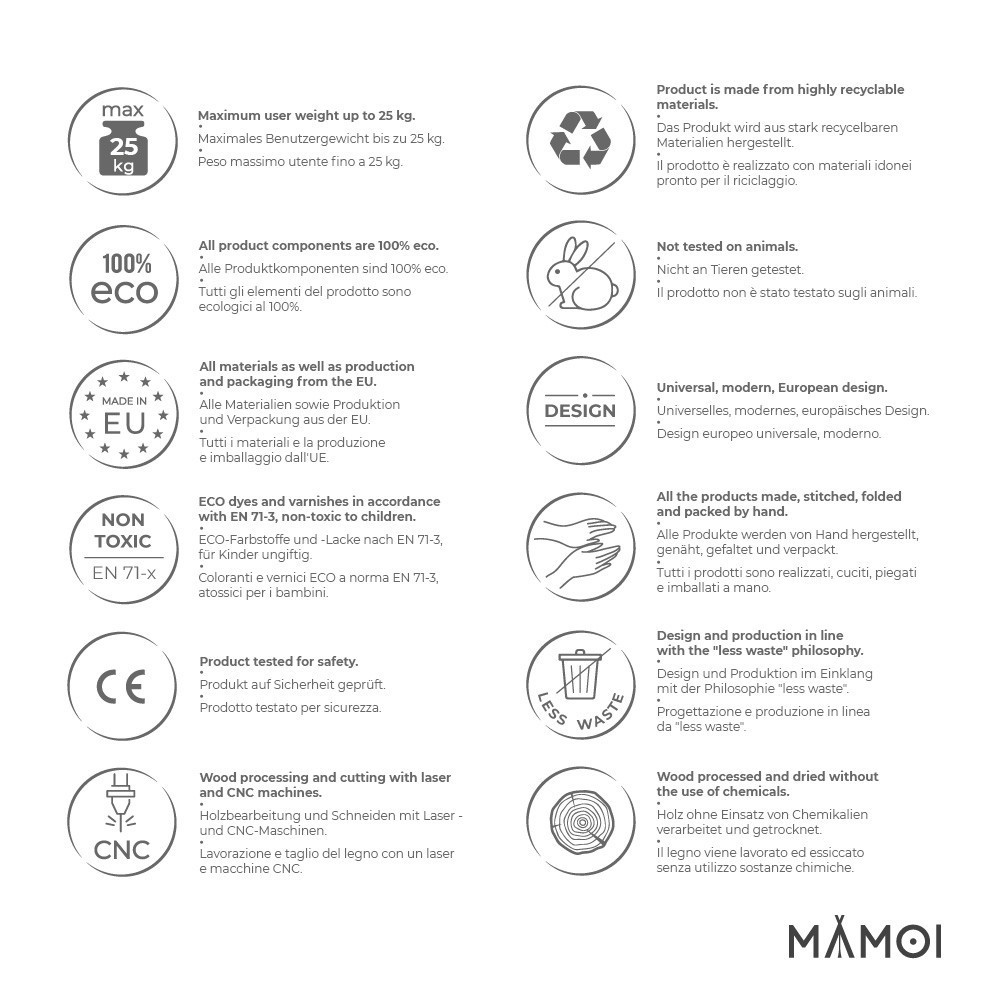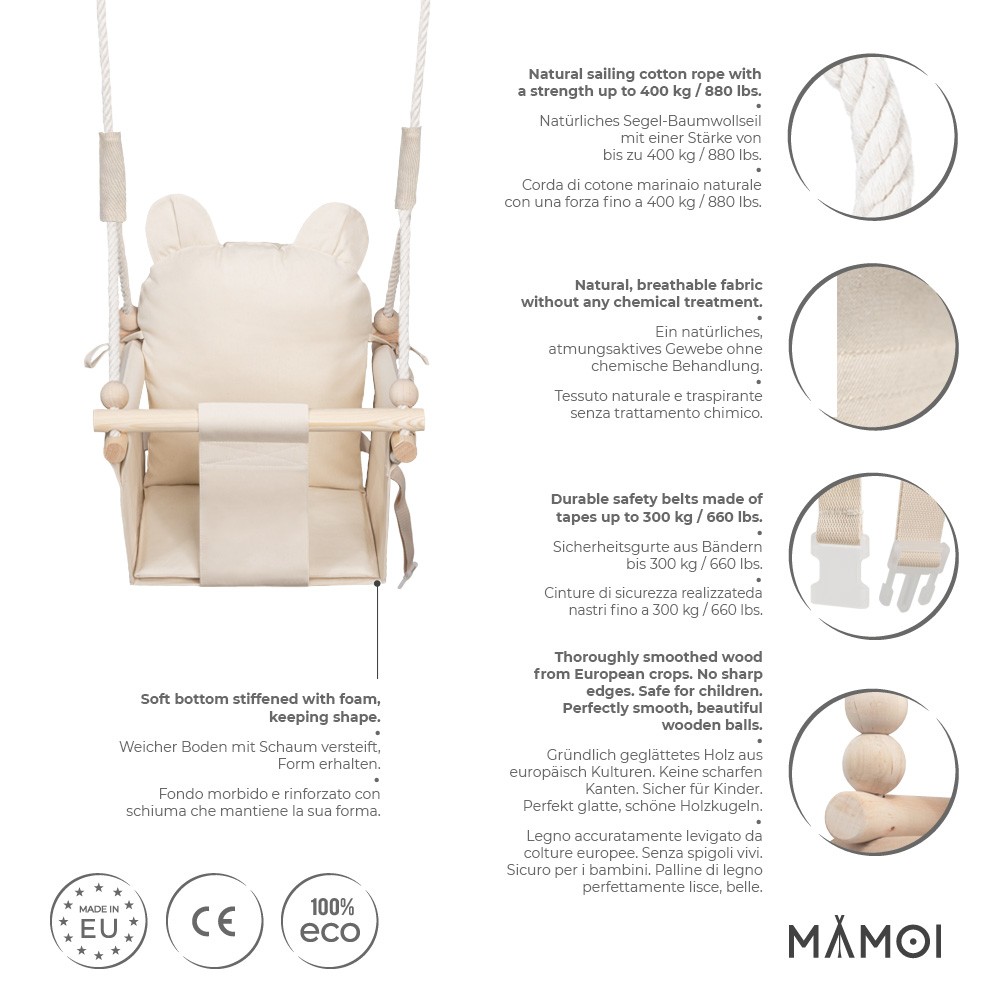 More information about the Scandinavian MAMOI wooden swing seat:
Dimensions: 26x26x36 cm
The wooden swing seat is equipped with a safety belt with a discreet safety clip.
Made of certified and tested materials.
The seat and backrest are made of firm and durable cotton fabric, which withstood repeated washing and drying tests.
The child swing is easily assembled at home and can be hung down one minute after unpacking!
The kids swing chair is wholly made in Poland.
You will certainly enjoy using the MAMOI swing for years to come!
● Baby swing indoor can be hung anywhere – either on a ceiling, in a door frame, or on a branch.
● The swing is perfect for furnishing children's rooms. It also fits well with the terrace or garden.
● There are four wooden beams at each corner of the swing – they prevent your child from touching the rope.
● Scandinavian MAMOI swing is 100% safe for your little one. No chemicals, toxic materials, or allergens were used in the production.
● The product contains no small parts that can be torn off and swallowed by a child.
Tighten the knots before each use.
Also known as: baby swing chair from birth, baby swing outdoor, baby swings for garden, baby outdoor swing, swings for toddlers, baby bouncer chair, baby rocker, baby door bouncers, door bouncer, bouncer for baby boy, door swing, sensory swing for kids, baby jumper bouncer, baby rocking chair