MAMOI® Gymnastics beam for kids (200 cm), Padded non-slip folding balance beam, Kids gym equipment at home, Gymnastic floor beams & bases for children
€39,99
Shipping from

€

5,00 to Poland
Delivery time: 4 days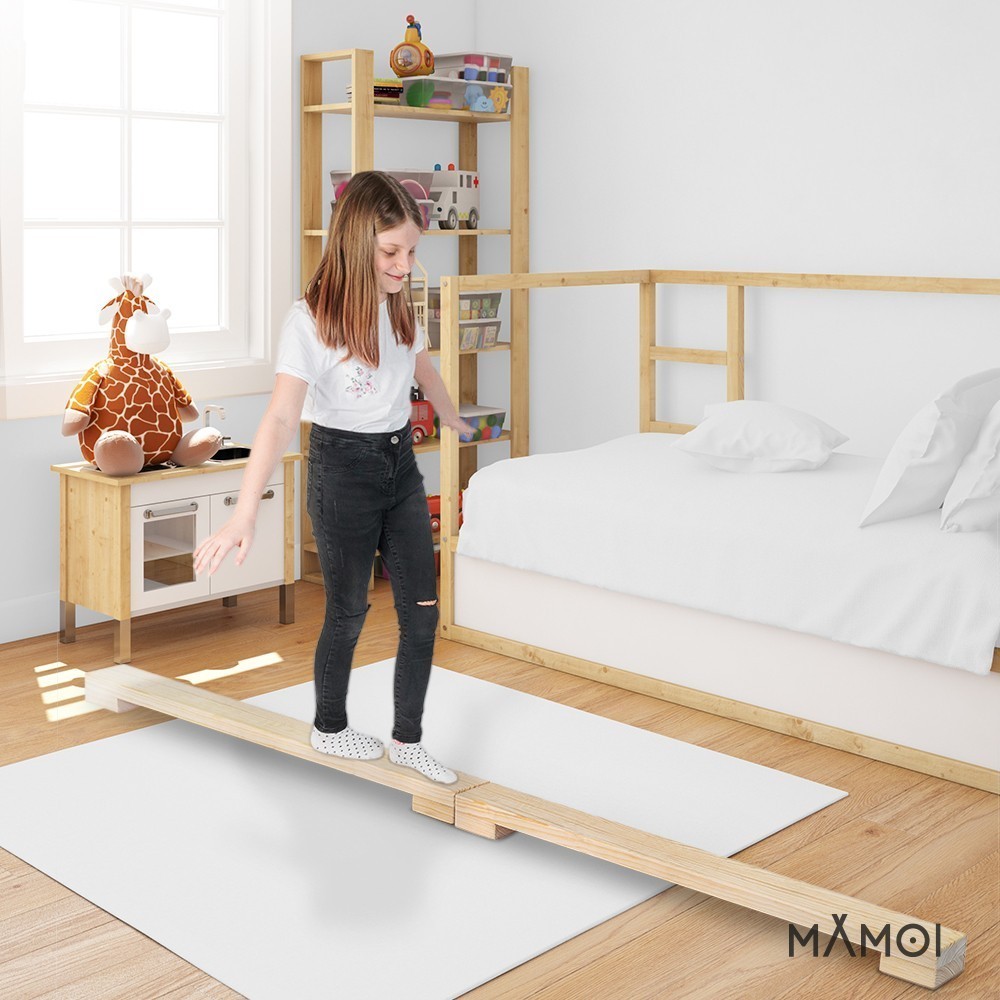 ✔ The gymnastics beam is perfect for children who enjoy sports and gymnastics. It is made of natural pine wood and will hold a maximum load of 180 kg. The balance beam gymnastic kids meets all safety standards and guarantees stability during play and exercise (it does not have any additional non-slip elements – it is made in such a way that it holds firmly to the ground).
✔ The gymnastics equipment is made of completely natural wood. During production materials have been used which are completely safe for the child and the environment, and it is free of toxic ingredients. Balance beam is intended for use inside the home. The gymnastics beam for home guarantees durability and is treated to provide grip and balance.
✔ The kids gym equipment is ready to use. The set includes two one metre modules. They can be used separately or together. Gymnastic beam is suitable for children from 3 years old. On the gym beam you can practice gymnastics, balance, stretch or play on it.
✔ The simple, minimalist design makes the beam fit into any interior décor. It has a natural wooden colour and therefore has a modern look. Folding gymnastics beam provides a lot of fun and gives you the opportunity to develop motor skills.
✔ The product can be used outdoors, but should be stored in a dry and clean place. Due to the natural materials, it must not be exposed to adverse weather conditions such as rain or snow. The manufacturer is not responsible for non-compliance with the storage conditions of the toy instructions.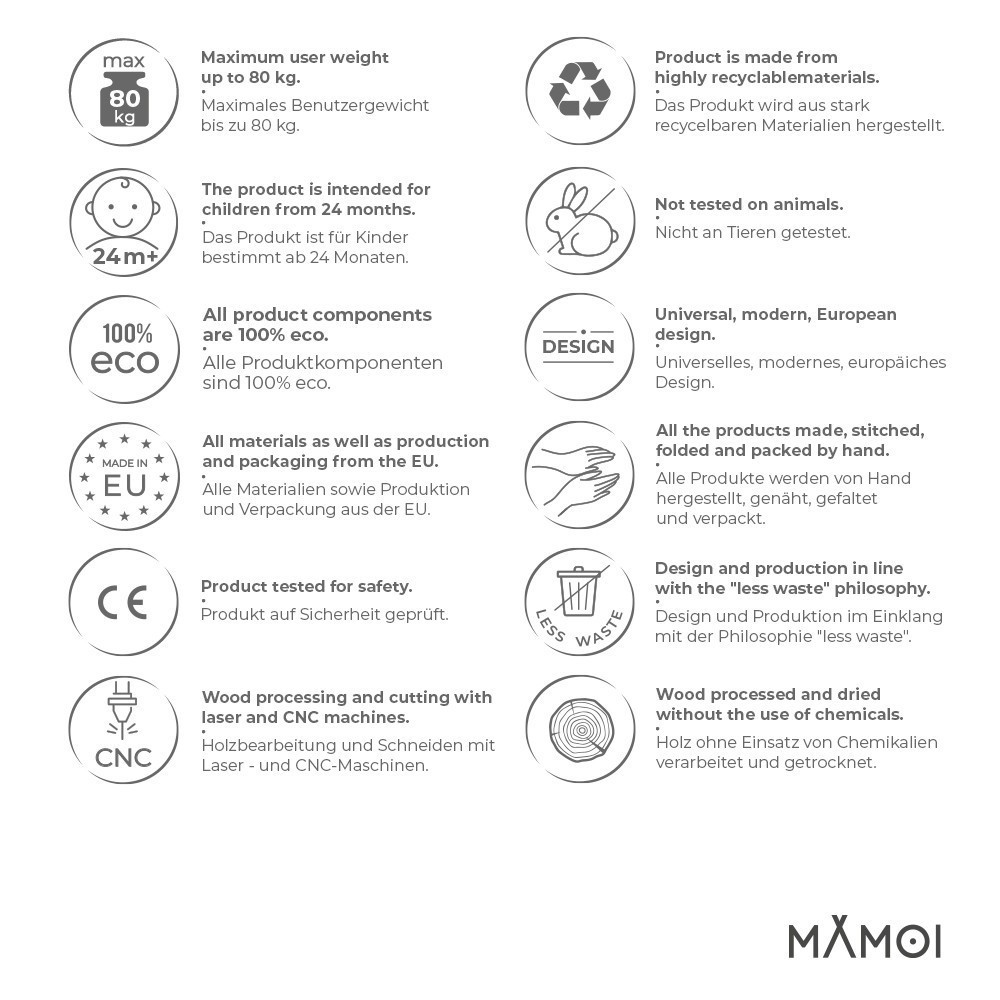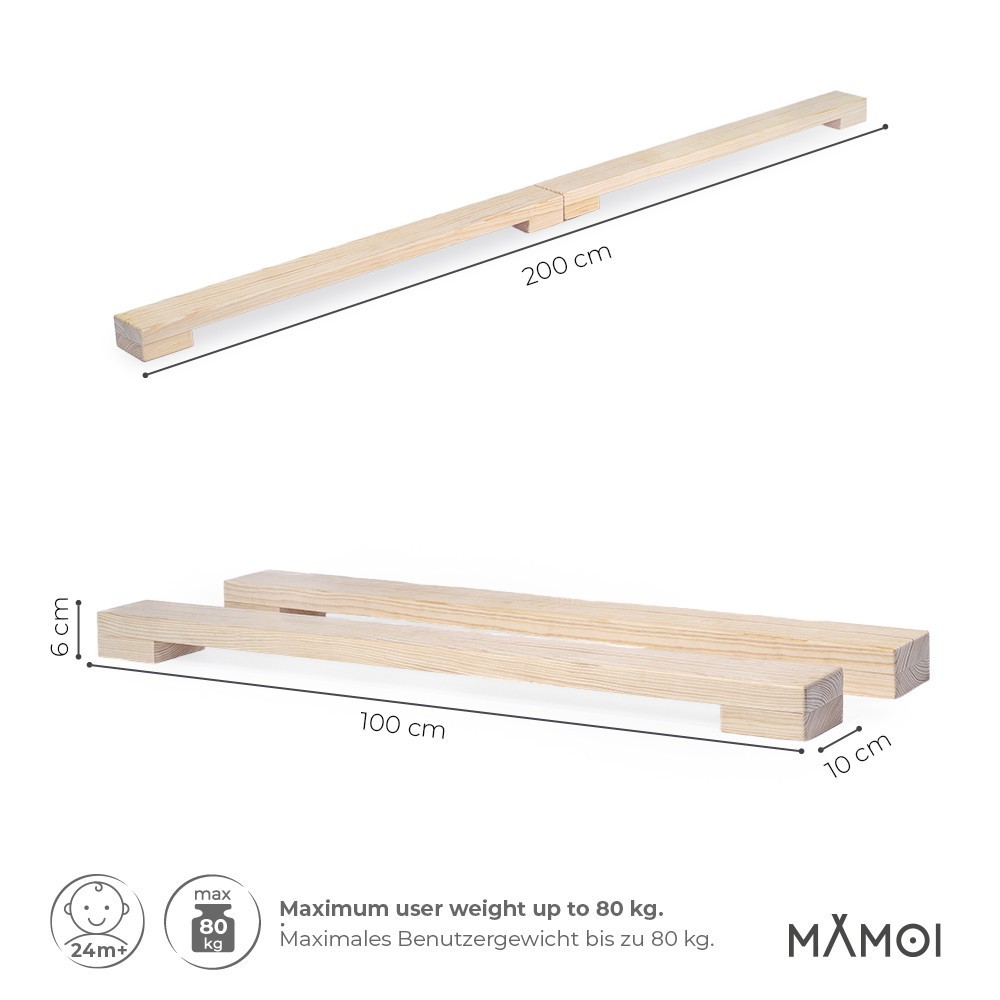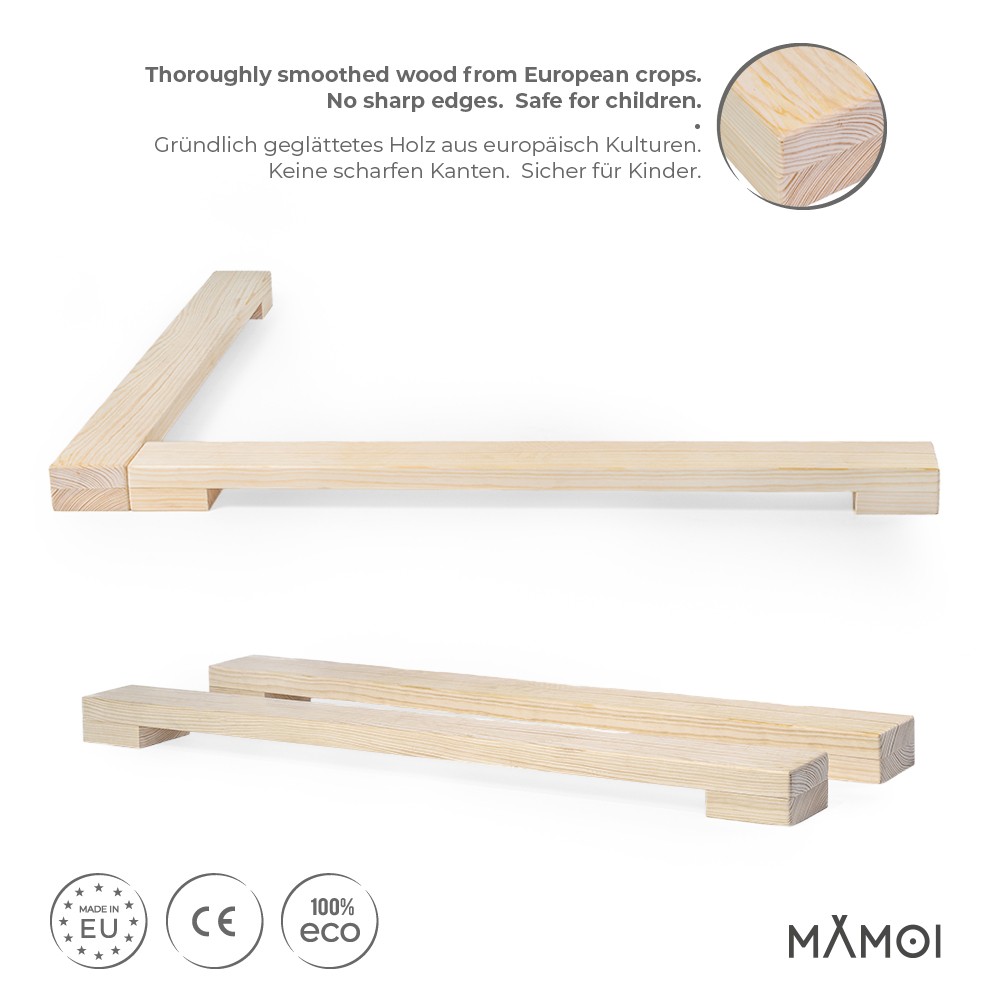 The balance beam for kids is dedicated to active children who like movement and gymnastics. Its universal and minimalist design makes it fit into any room, hall or playroom. On the beam you can stretch, practice balance and perform acrobatics. It is dedicated to children over 3 years old. The maximum load it can hold is 180 kg, so it can also be used by adults.
Gymnastic beam for kids is made of natural pine wood. This guarantees the excellent durability of the product. The kids balance beam is made in such a way that it is completely safe for children and the environment. The set includes two modules with a length of one metre. The polished edges guarantee safety during play and exercise. Floor beam gymnastics is ready for use and should be used indoors. The gym beam for kids at home should be used by children under adult supervision.
Dimensions:
Height: 5 cm
Width: 10 cm
Length: 100 cm (one module), 200 cm (two modules)
The wood can be cleaned with mild cleaning products and a slightly damp cloth. It must be protected from adverse weather conditions. The manufacturer shall not be held responsible for failure to store the product correctly.
Also known as: balance beams & bases