MAMOI® Rope ladder durable climbing ladder for children made of wood and cotton cord | Scandinavian design | 100% ECO | Made in the EU
€24,99
Shipping from

€

5,00 to Poland
Delivery time: 4 days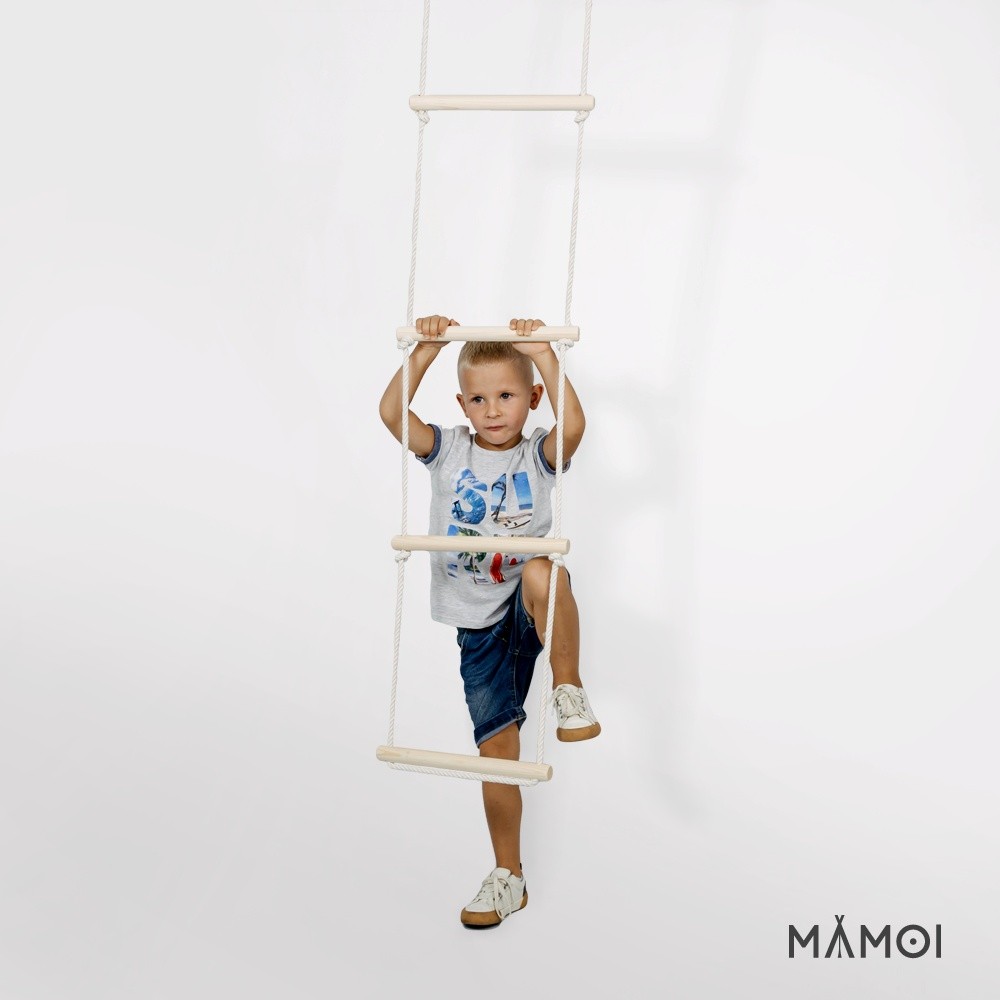 ✔ The children's hanging ladder is made of high-quality materials and meets European strict quality standards. The product is robust yet lightweight and easy to assemble. A braided cotton rope with a diameter of 10 mm is very firm, so the rope ladder can hold up to 50 kg. Wooden rungs are secured with knots and metal clips.
✔ The wooden plate swing is made of natural wood and ecological cotton ropes. All materials are child and environmentally friendly: the ladder play tower can be used in the children's room. Wood has a natural finish (no harmful agents are used in production).
✔ The rope from our children's ladder for children is very robust but feels comfortable. The product can also be connected to a wall bars. All wooden elements are carefully sanded and therefore also completely safe for your child's hands. Ropes are connected with metal clamps, which are also more durable compared to plastic elements.
✔ The children's swing accessory has a simple shape and can be used as a universal element in all children's rooms. Light wood and white ropes go well with any decor and are particularly suitable for Scandinavian style rooms.
✔ 100% money back guarantee. At MAMOI the highest quality is not only associated with the products, but also with our customer service: if you don't fall in love with our product, we will refund your money back.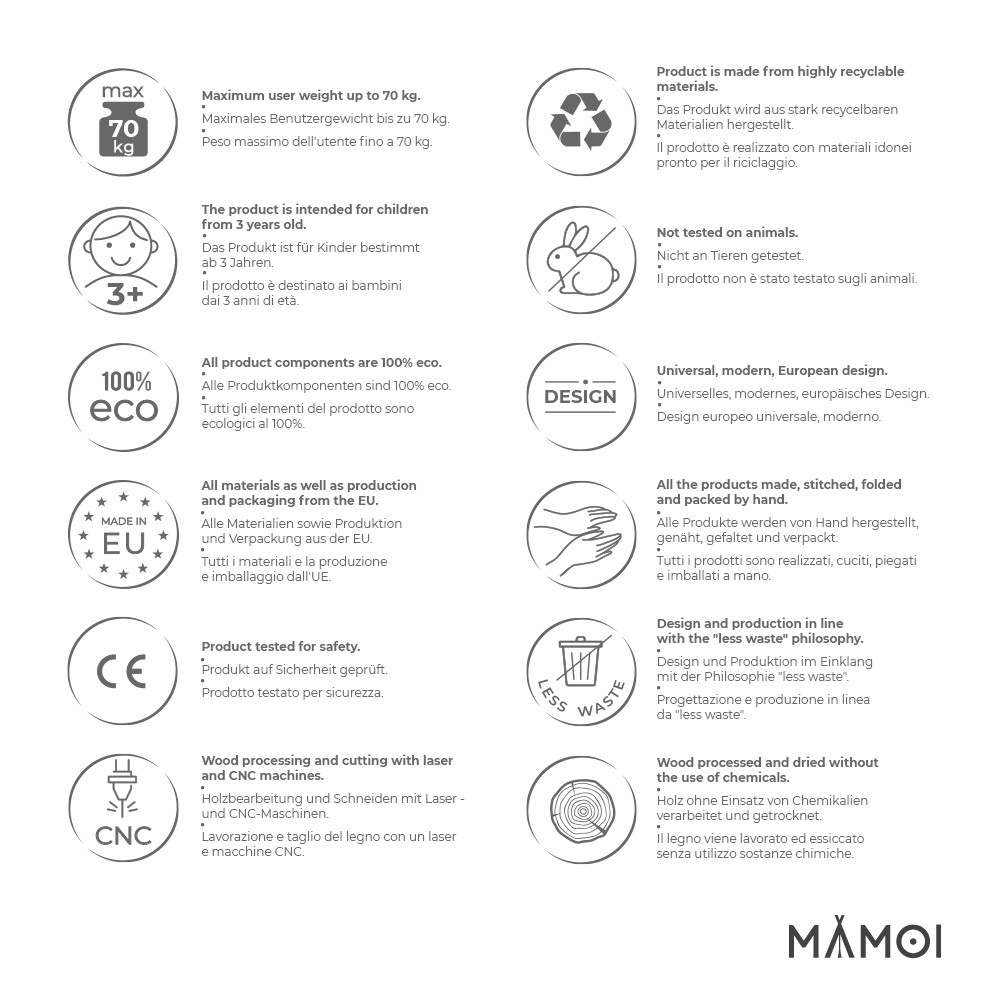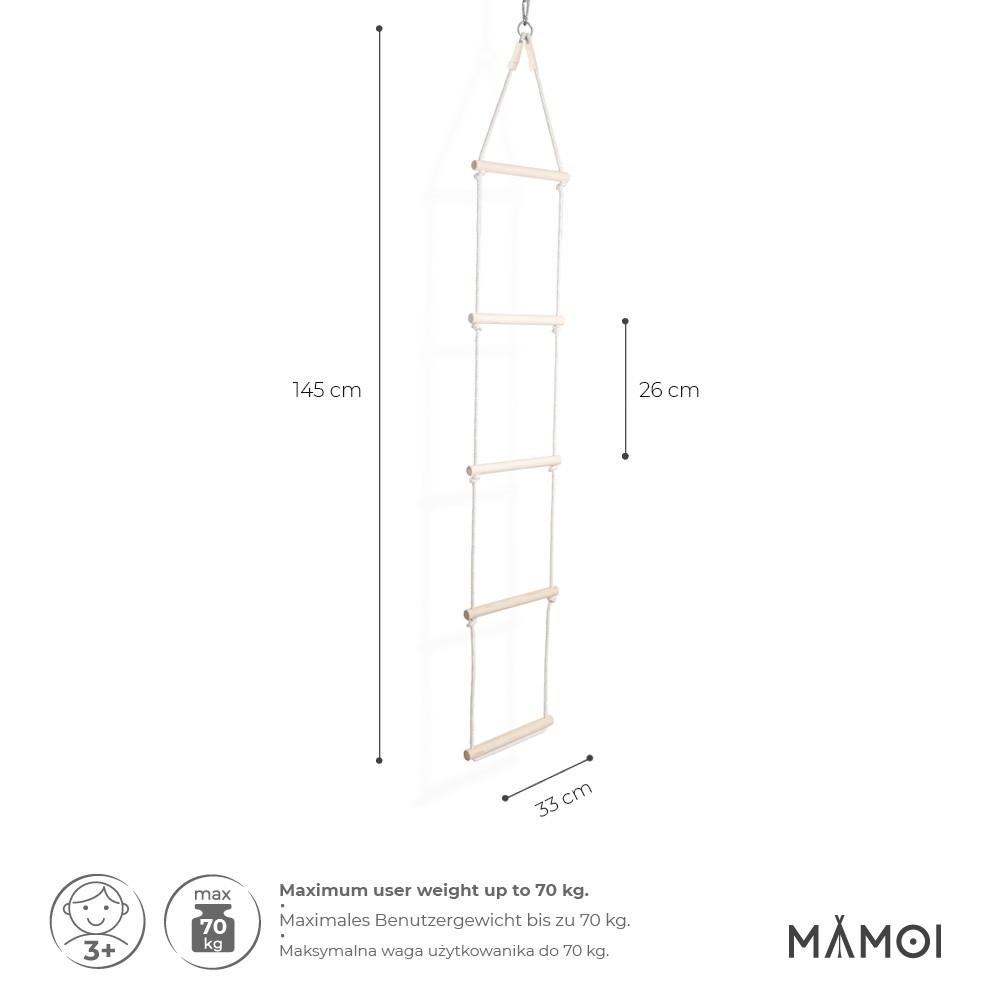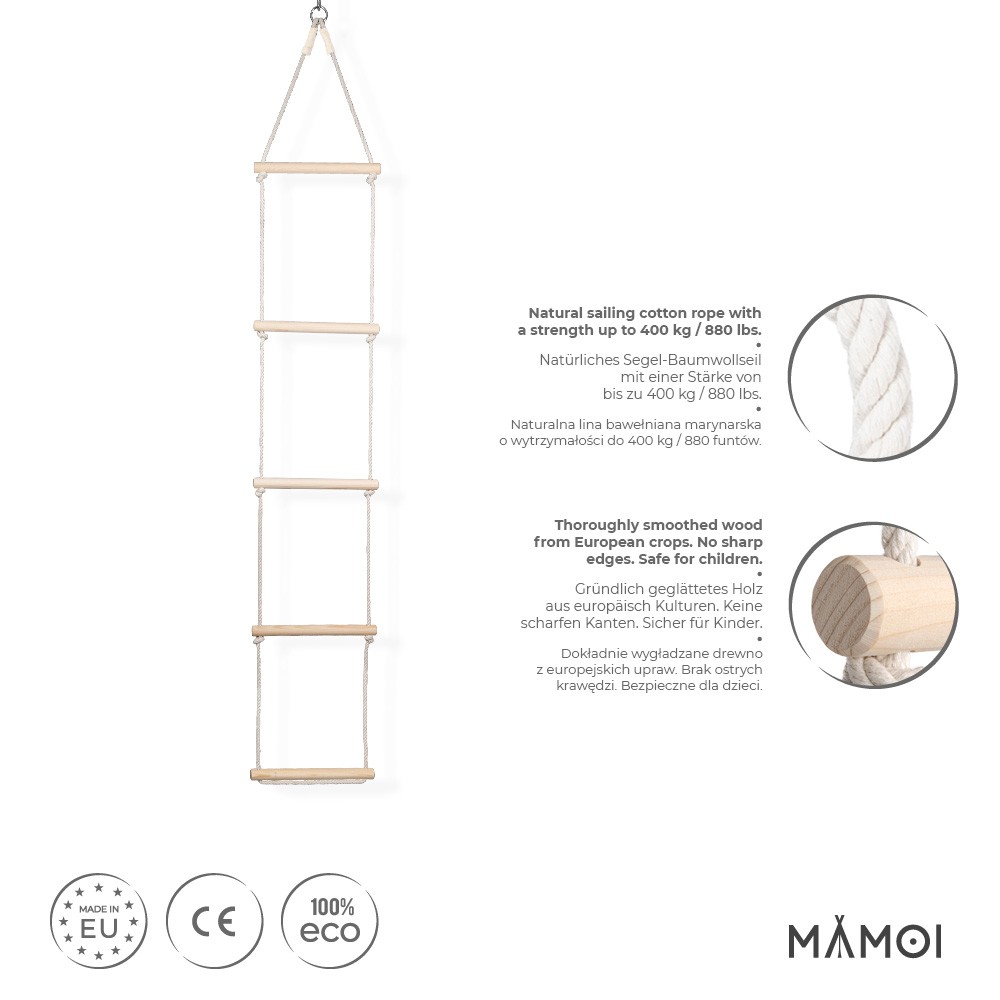 The rope ladder from MAMOI is intended as a supplement to other MAMOI products, such as rung wall. The product guarantees safety and maximum comfort when playing. The rungs are made of natural wood and are connected with solid cotton sailing ropes (diameter of 10 mm). The assembly of the children's hanging ladder is really easy. The ropes are secured with metal clamps and the ladder can be hung using a snap hook. The hanging ladder is ready to use. Playing on the ladder supports the motor coordination of a child and the correct development of his muscles.
The rope ladder swing has a natural finish: natural wood has been assembled with white cotton rope. It matches any decor, not only suitable for playing, but also as an accessory for photo shooting. The wooden plate swing is suitable for children over 36 months. The product is robust and can hold up to 50 kg. The length of the whole toy is 190 cm. The ladder play tower can be assembled with other gymnastics accessories. Before using the product for the first time, please make sure all the components are properly attached. The rungs can be cleaned with a slightly damp cloth.
The product can be used outdoors, but should be stored in a dry and clean place. Due to the natural materials, it must not be exposed to adverse weather conditions such as rain or snow. The manufacturer is not responsible for failure to comply with the storage conditions of the toy instructions.
Also know as:
rope ladder
rope ladder for tree
rope ladders
climbing ladder
kids climbing rope