MAMOI® Climbing wall for kids, Wooden frame for toddlers, Play equipment with rock holds for toddler, Indoor baby and childrens frames montessori from age 3 years old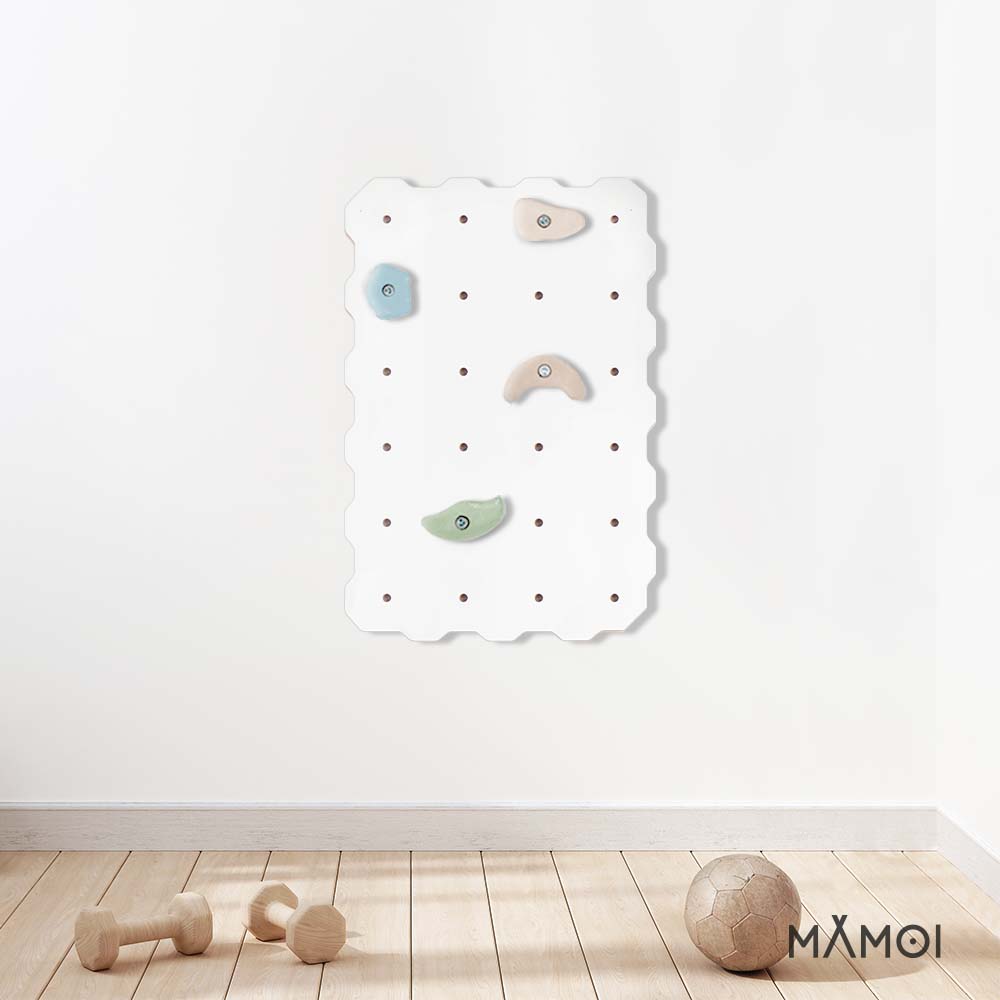 ✔ The modern climbing wall is made of materials that are absolutely safe for your child. Each module is made of white Yarnwood. Drilled holes are used to attach the rock climbing holds. These elements were made of glass fibre reinforced concrete. The Explosion Proof System also guarantees the complete safety of your child during indoor climbing. The climbing frame meets the European quality standards.
✔ The toddler climbing frame indoor is made of eco-friendly materials. All the edges of the modules are precisely CNC-cut, so they are smooth and free from any sharp edges. The modules are designed to be mounted on the wall with the parts included in the set. The load capacity of the wooden climbing frame indoor is 150 kg.
✔ The set contains 1 indoor climbing frame modules with holes, made of Yarnwood. The edges of the modules are decorated with a wave-shaped cut-out which allows any desired arrangement of the elements and handles. The climbing wall is suitable for children over 36 months, to be used under adult supervision.
✔ The climbing wall for children is equipped with 4 MAMOI childrens climbing holds. The baby climbing frame handles are fitted to the shape of the child's hand, so that play is safe and comfortable. The surface of the handles provides good grip and ensures that your hands do not slip. The kids climbing wall is designed for self-assembly.
✔ The product can be used outdoors but should be stored only in a dry and clean place. Due to the natural materials used, it cannot be exposed to difficult weather conditions such as rain or snow. The manufacturer is not responsible for non-compliance with the storage conditions of the toy instructions.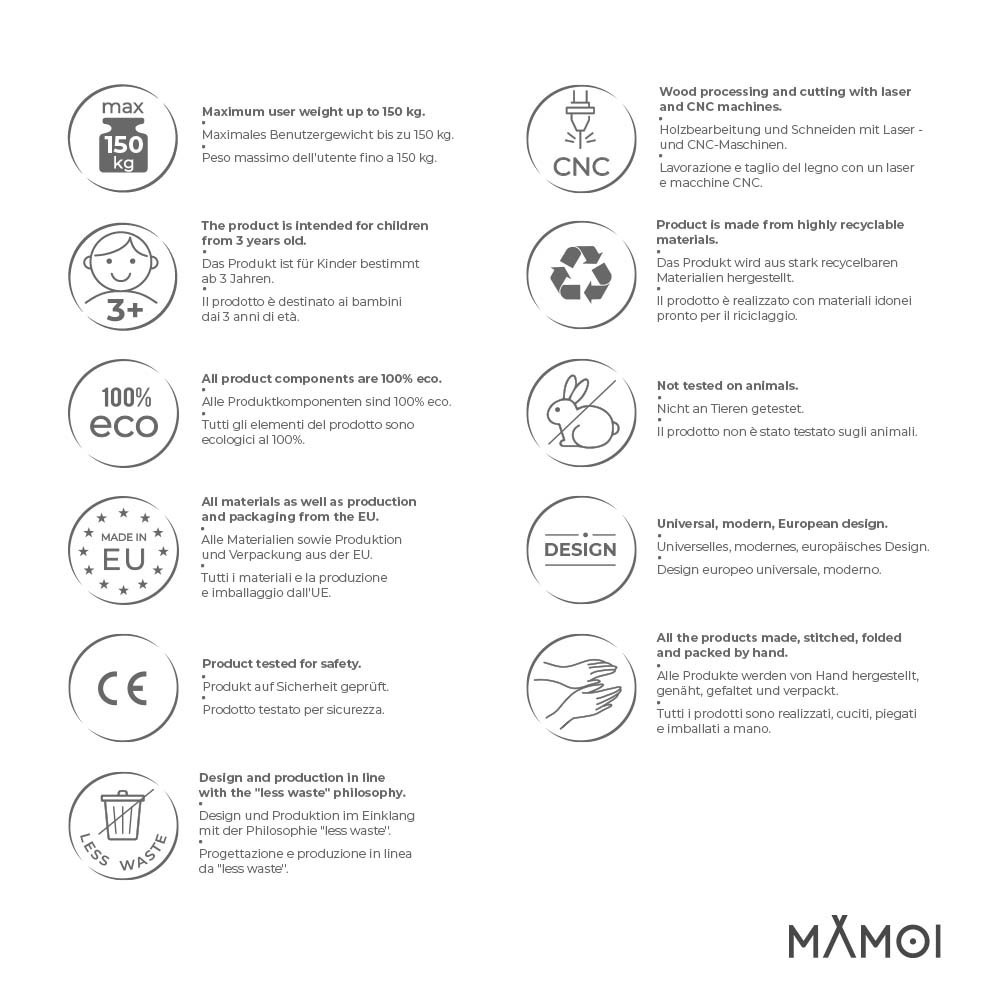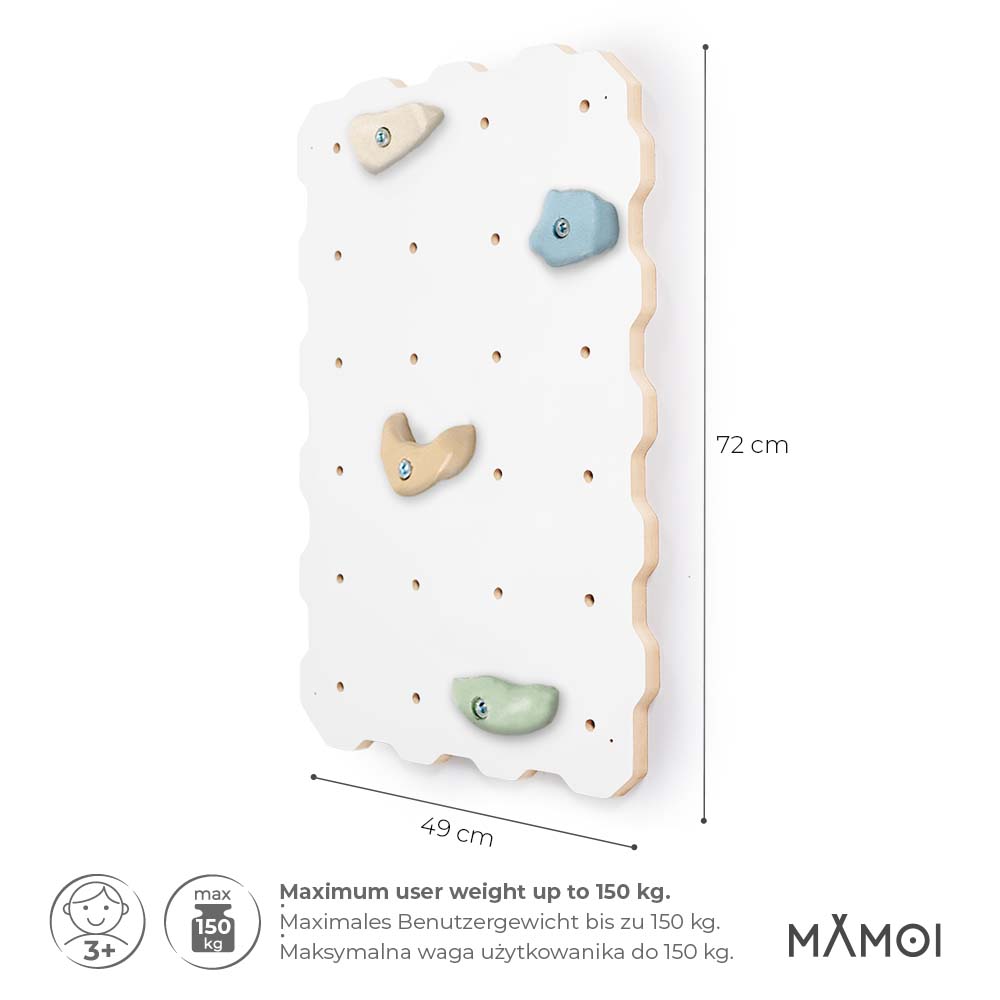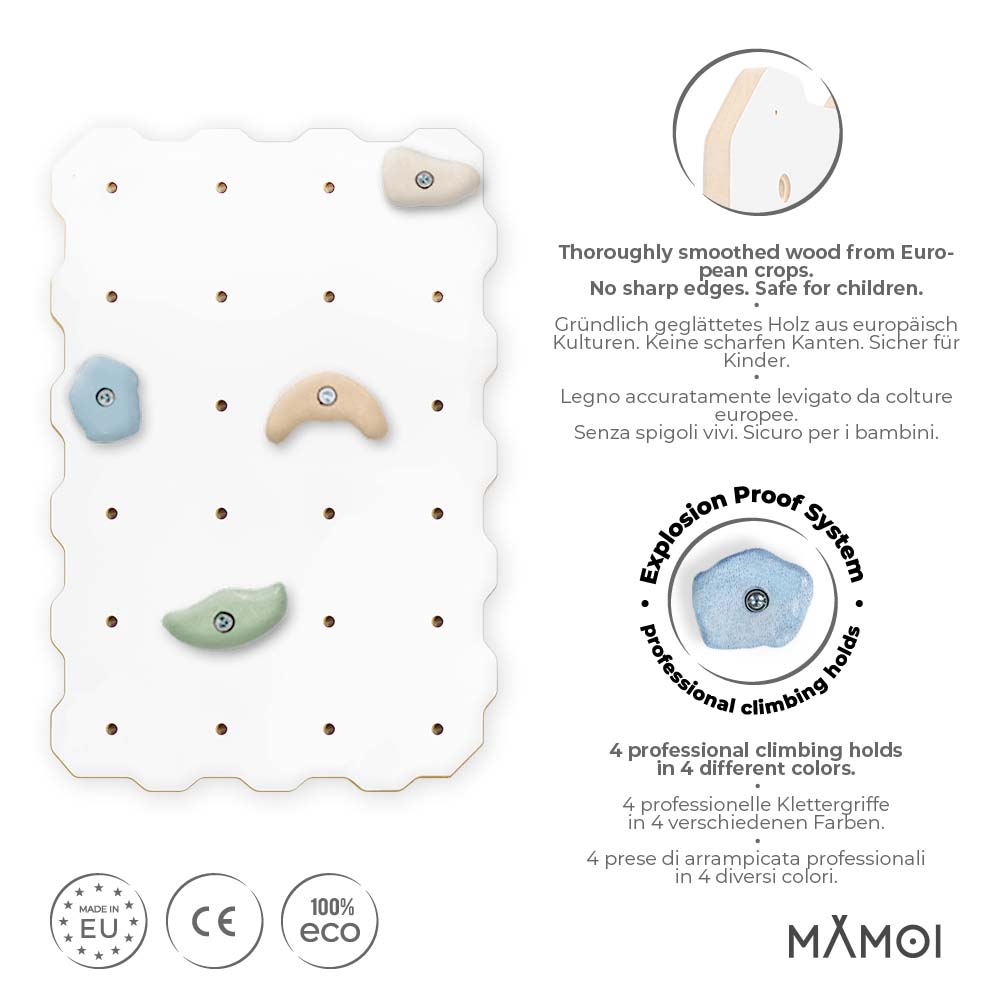 MAMOI toys support the proper psychomotor development of your child. The indoor climbing frame for toddlers allows you to develop dexterity and muscle strength. The indoor climbing wall is made of high quality, certified materials, which guarantee safety during play. The climbing frame modules are made of ecological Yarnwood. All elements are precisely CNC-cut and ground. The climbing wall with climbing holds is designed for self-assembly using the elements included in the set.
The edges of the climbing frame are decorated with a wave-shaped cut-out. This allows you to fit the elements together as you like.
The rock climbing holds for the MAMOI climbing wall are made from a combination of high-quality glass fibre reinforced concrete. This material provides excellent grip when climbing. Each handle has a suitable shape, which makes it easier for the child to grip the element comfortably. Each element is attached with metal screws and couplings (included). The holes in the modules allow any arrangement of the handles on the wall, as well as an easy change of their position.
Set includes:
– 1 climbing walls made of Yarnwood in white,
– 4 MAMOI climbing holds in pastel colours (blue, green, orange and beige).
Also known as: climbing frame for toddlers age 1-3, gorilla gym, kids indoor climbing, montessori climbing frame, childrens climbing frames outdoor, childrens climbing frames outdoor, kids outdoor play equipment