MAMOI® Ceiling hook, Heavy duty bracket, Attachment and hanging accessories for baby swing, swing chair and hammock, Ceiling mount and punch bag hooks
€17,99
Shipping from

€

5,00 to Poland
Delivery time: 4 days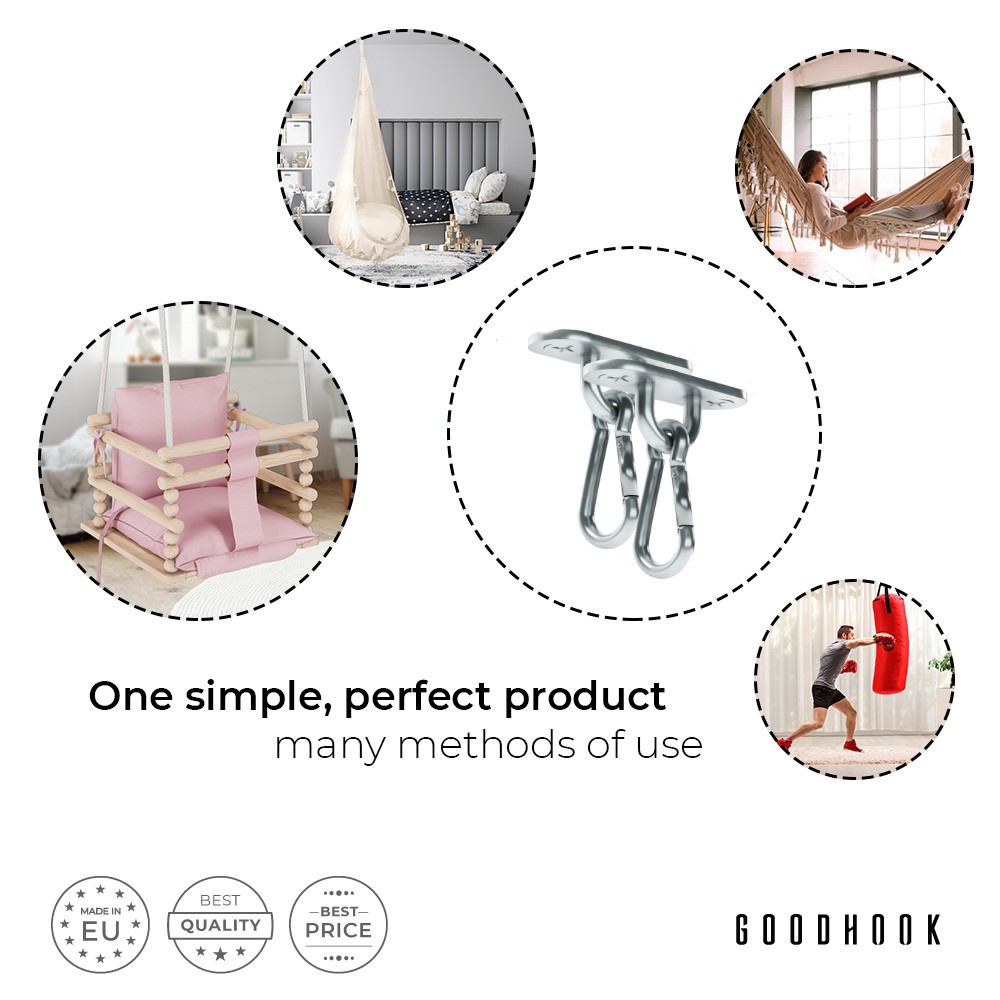 ✔ Thanks to its high-quality elements made of stainless steel, GHOOK ceiling hook allows heavy load of weight up to 200 kg per hook. The set contains two swing hooks with the common vertical load capacity of 400 kg. The ceiling hooks heavy duty set safely supports a weight of up to 200 kg during pendulum movement, at an angle of 50 degrees from the axis.
✔ Tested and safe – the GHOOK swing hook blanket has been subjected to the test with a load of 200 kg with a pendulum movement of more than 50 degrees from the vertical axle (balance) and 230 kg in peace. The GHOOK ceiling hook is suitable for baby swing, baby swing chair and baby hammock. It is important that the total weight of 200 kg is not exceeded.
✔ Minimalist – During the development of the swing attachment, we have taken into account longevity, safety and ecology. We wanted to make a swing bracket that is not striking and does not require a large space. At the beginning, the maximum weight of a user was determined so that we only use the amount of material needed to manufacture and protect our environment according to the philosophy "less waste".
✔ Easy to use – with GHOOK carabiner swing you will receive certified wood screws or concrete anchors depending on your choice. You only need to remove the GHOOK from the box, place it on the mounting surface, drill two holes with the appropriate width and then screw in. An opening hook allows the product to be disassembled and leaves only small and almost invisible "ears".
✔ UNIVERSAL – The GHOOK ceiling hooks are suitable for indoor and outdoor use thanks to its acid and rust resistant, high-quality stainless steel components. The hanging chair hook can be used for concrete as well as for wood depending on the option you choose. You can safely use this for all swings, hammocks, punching bags, gymnastics wheels and deck chairs.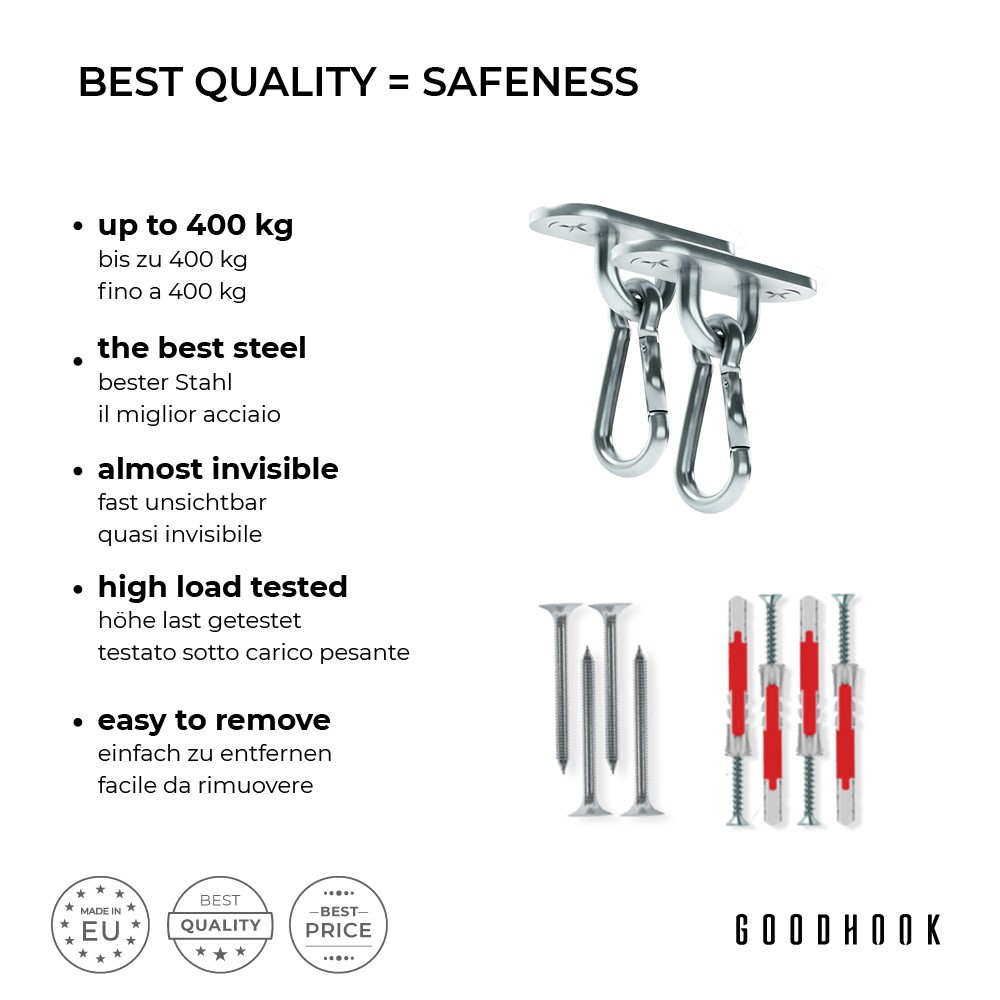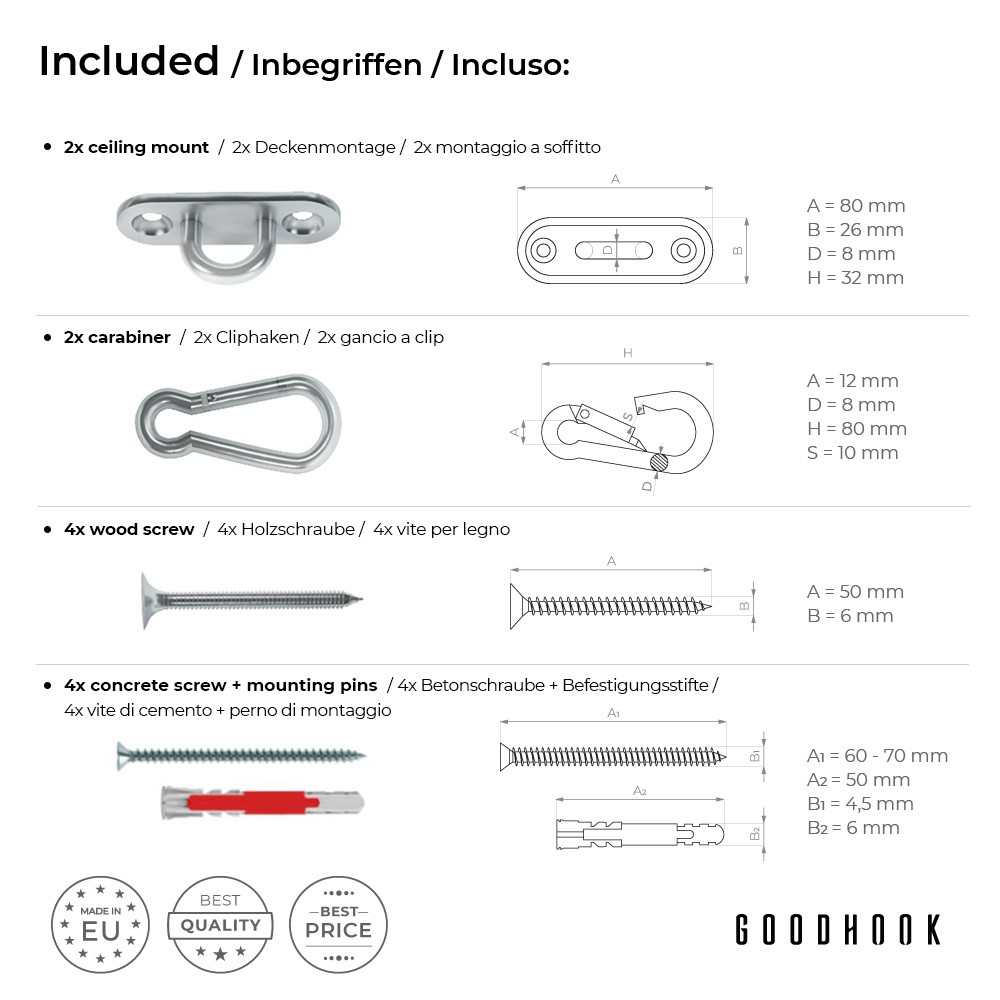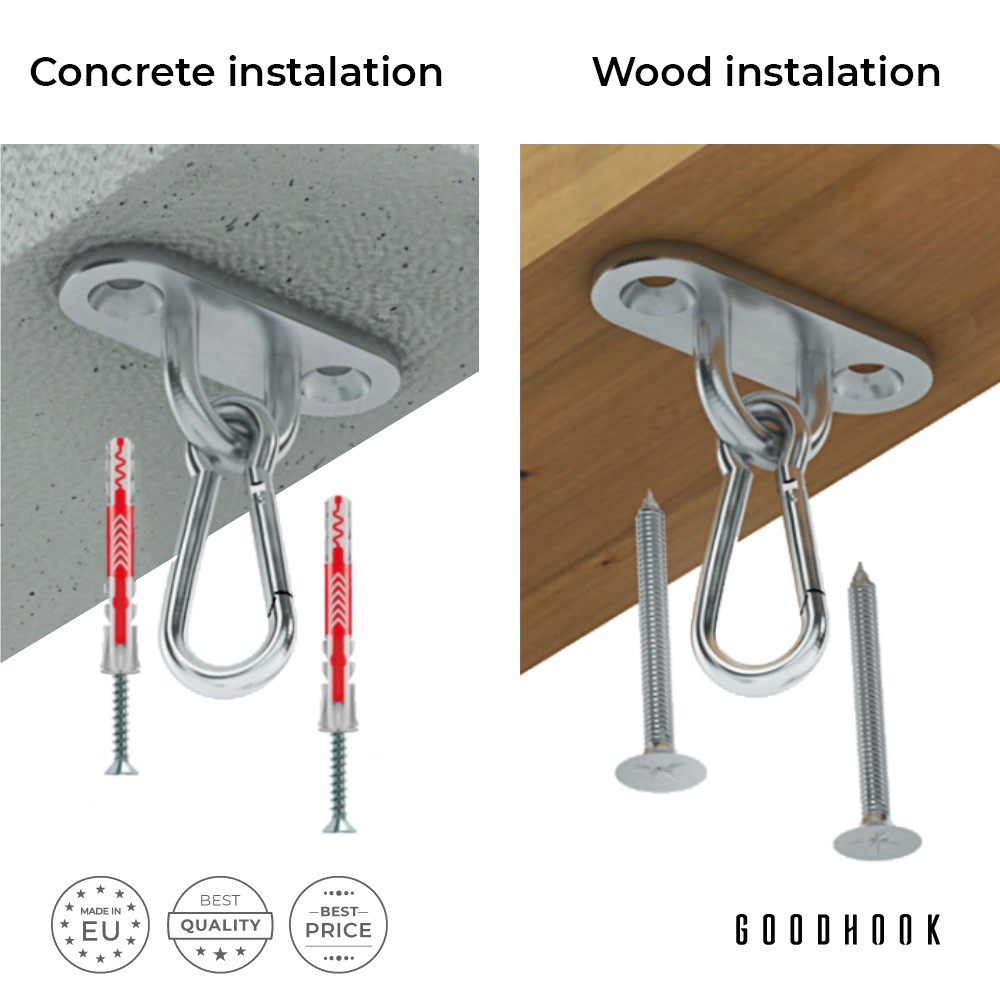 The GHOOK ceiling hook has been developed and prepared for children and teenagers.
Hooks currently available on the market are hardly discreet, big, and non-ecological due their unusable load bearing capacities reaching up to 500 kg.
Because of small spacing of concrete anchors, on which hooks are mounted, concrete ceilings are able to withstand at maximum 200 kg. Therefore, the selection of a hook with load bearing capacity of 300, 400, or even 500 kilograms has no ecological meaning, because the hook's assembly surface will most likely fail to withstand such load.
In addition, the consumption of materials needed to manufacture the GHOOK ceiling hook is only half of materials needed to manufacture hooks achieving over 250 kg of load bearing capacity. Thus, by choosing GHOOK you choose safety, tested quality, and take care of environment.
The set contains:
– 2x elongated steel eye made from stainless steel with dimensions 80x26x32 mm.
– 2x automated snap hook made from stainless steel with dimensions 80x8x30 mm.
– 4x wood surface screw with dimensions 6×50 mm
– 4x concrete screw with plastic elements
Also know as: swing accessories, baby swing set, punch bag hook, ceiling mount