MAMOI® Baby swing Light grey, Toddler sensory seat 3 in 1, Wooden door bouncer for kids, Indoor swings set, Chair from birth for toddlers age 1-3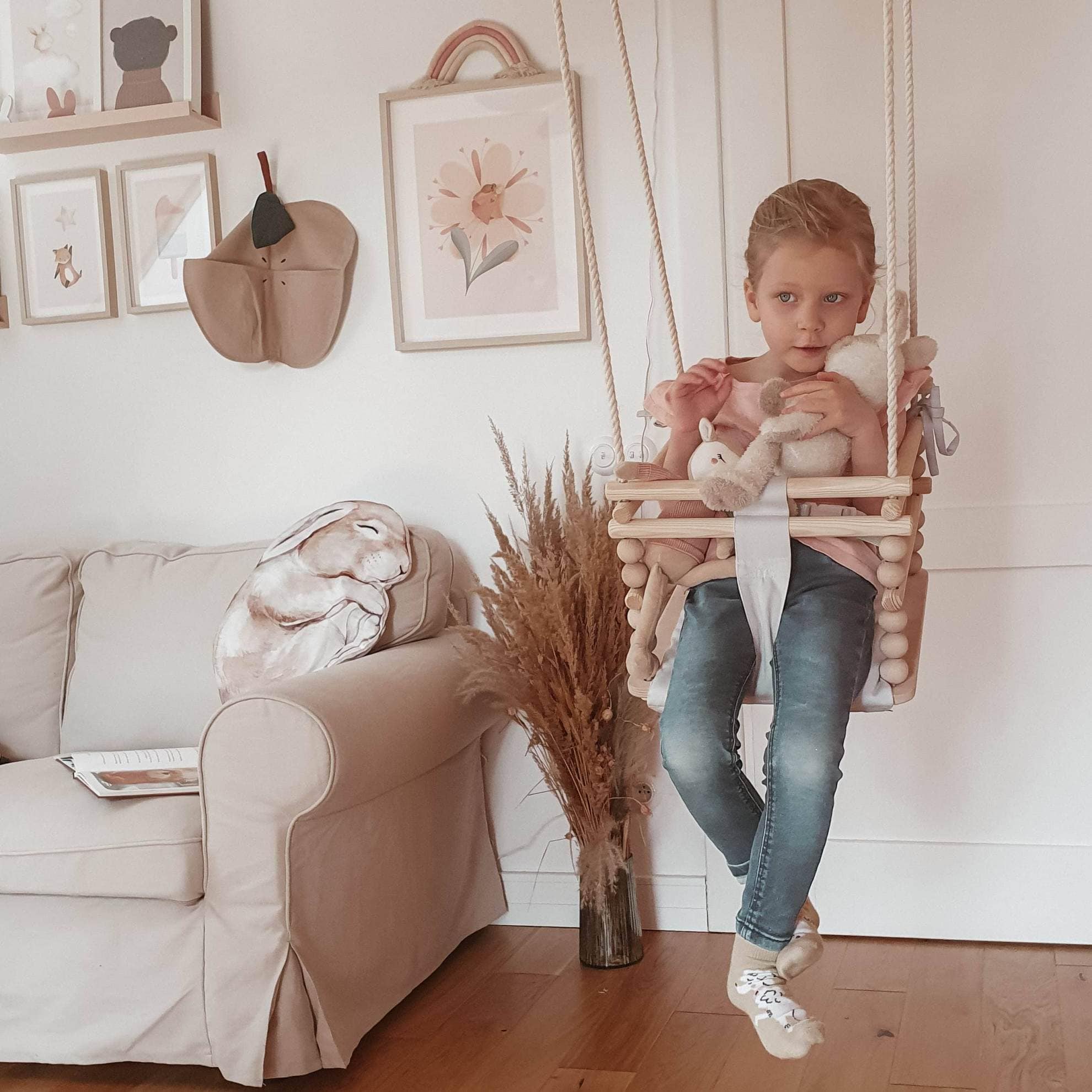 ✔ MAMOI baby swing 3 in 1 can be adapted to a child's age, including the appropriate safety settings. The fall protection (this is the only baby swing seat with safety belt) on the MAMOI swing provides more security for the young children during use. MAMOI baby swing chair from birth works as a swing for pre-school-aged children by removing the front barrier. The next option is a swing bench for children up to the age of 10.
✔ MAMOI sensory swing is made of ecological materials of the highest quality. Natural wood is used for the seat, backrest, and armrests. Cushions and other textiles are made from organic cotton in the colour – LIGHT GREY. No chemicals were used in production of the baby bouncer. The fabrics used are hypoallergenic.
✔ The construction of the MAMOI indoor swing guarantees extreme safety and durability. The maximum load capacity of the toddler swing is 25 kg. It is very easy to assemble and disassemble. The set also includes durable rope and metal rings. You only need to obtain the hooks required for mounting – for concrete or wood, depending on the target surface.
✔ The wooden swing is an excellent gift for a child. The highest quality of the wood and textiles used guarantees the longevity of the product. It is easy to adjust the backrest and fall protection to a child's needs, which makes indoor baby swing grow with a child and provide a lot of fun and pleasure for years.
✔ The toddler swing seat can be used outdoors, but should be stored in a dry and clean place. Due to the natural materials, it must not be exposed to adverse weather conditions such as rain or snow. The manufacturer is not responsible for non-compliance with the storage conditions of the toy instructions.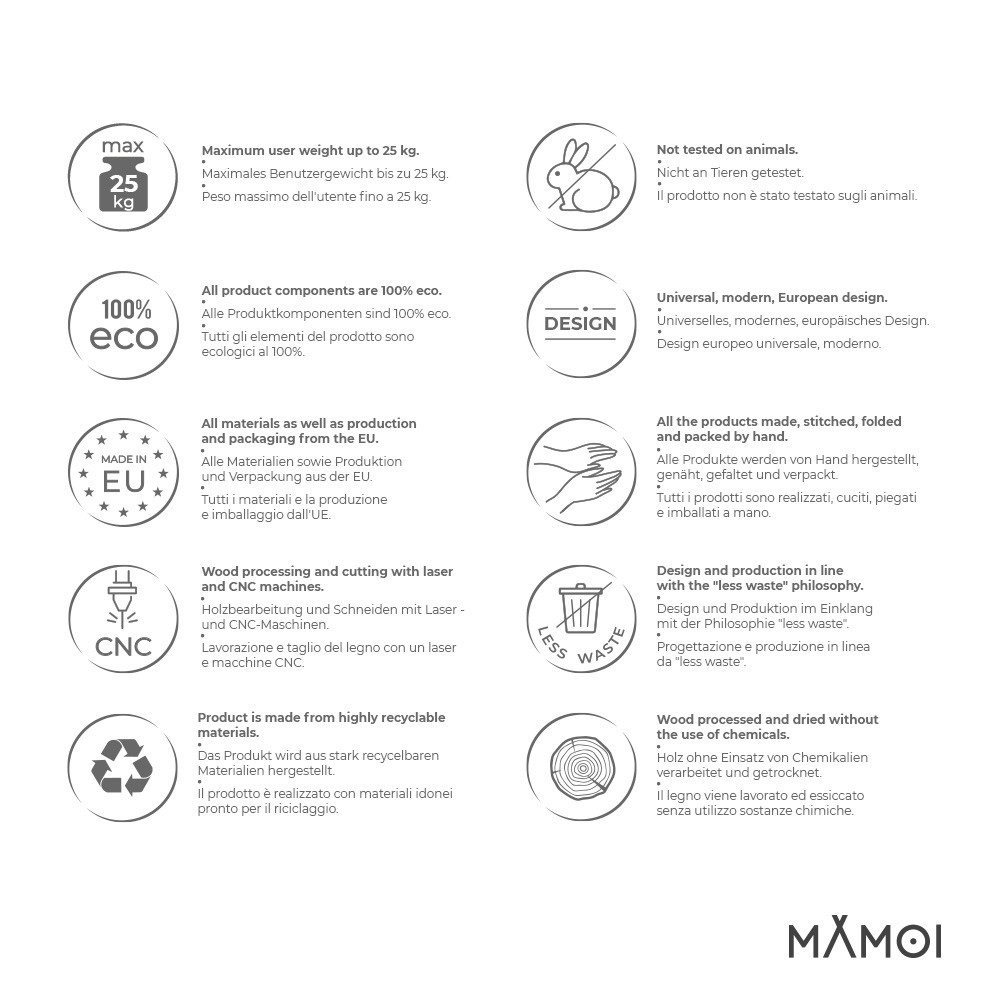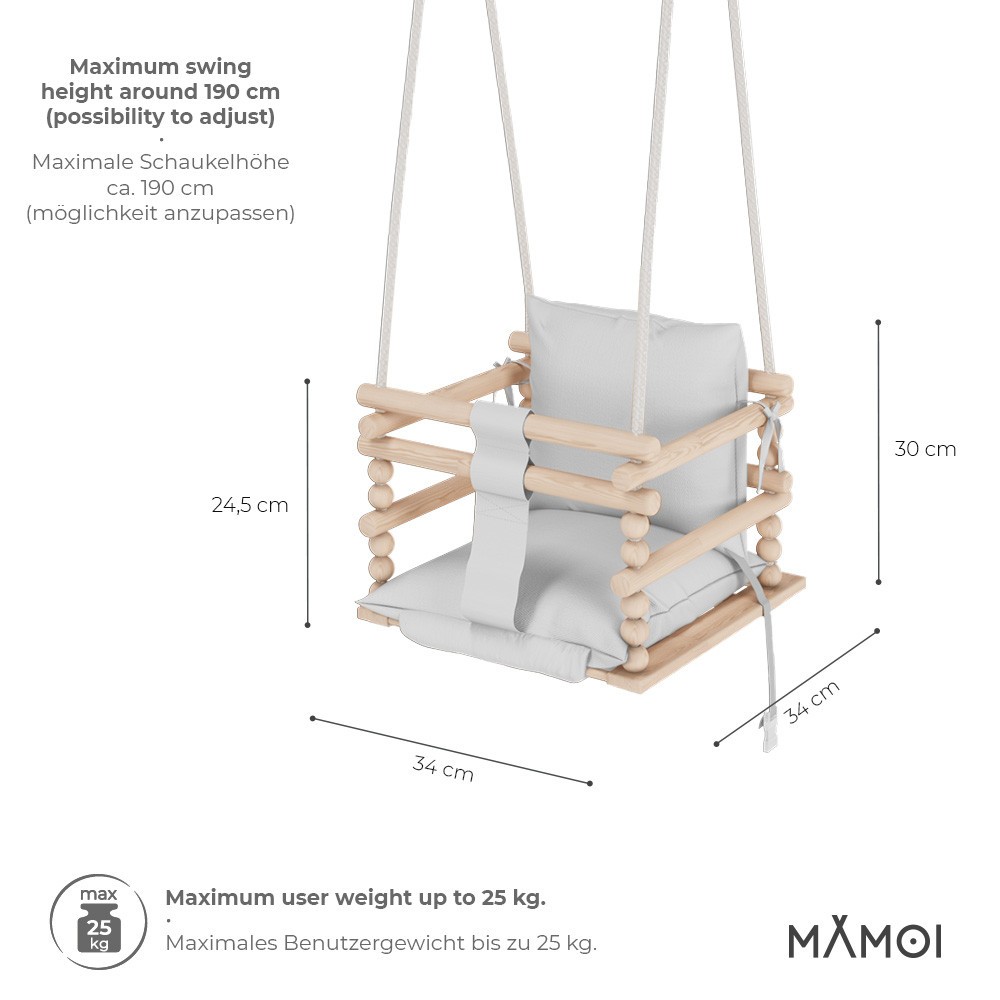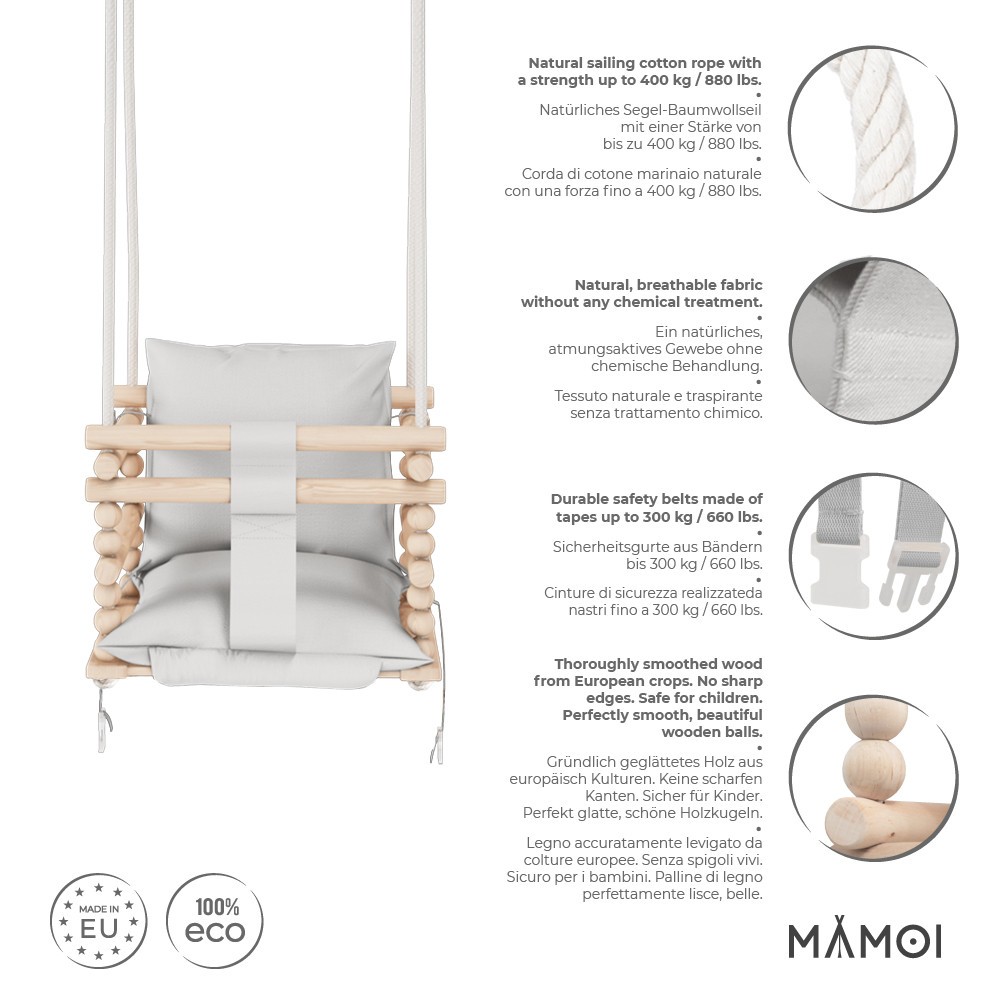 IMPROVED STABILISATION
MAMOI swing for baby 3 in 1 is made for a happy childhood! Every child in the world loves swings.
MAMOI wooden swing set will give you joy for years.
● The wooden swing seat can be used for years because it easily adapts to a child's height and weight.
● The kids swing chair can be mounted anywhere – on a ceiling, in a door frame, or on a branch.
● The child swing is a wonderful idea for furnishing children's rooms. It is also a perfect fit for a terrace or garden.
● The high-quality of our baby bouncer offers comfort and pleasure during use.
●The seat is made of soft and pleasant to the touch fabric that is very easy to clean as well. The cushions are filled with silicone filling.
● No allergens, chemicals, or toxic materials were used in the production process. MAMOI baby swing is utterly safe for children of all ages.
Tighten the knots and check all of the elements before each use.
MAMOI children's swing garden 3 in 1 size: 34x34x30 cm
For children from 6 Months to about 10 years, depending on the body weight of a child.
Low temperatures and rain can have a negative impact on the durability of the children's swing. Use only under the direct supervision of an adult.
Also know as: baby swings for garden, baby door swing, sensory swing for kids, swing for toddlers age 1-3, baby garden swing, baby outdoor swing, baby swing seat outdoor, door swing baby indoor, baby rocker, baby bouncer chair