MAMOI® Plate swing wood diameter 30 cm, baby swing outdoor indoor children's swing
€24,99
Shipping from

€

5,00 to Poland
Delivery time: 4 days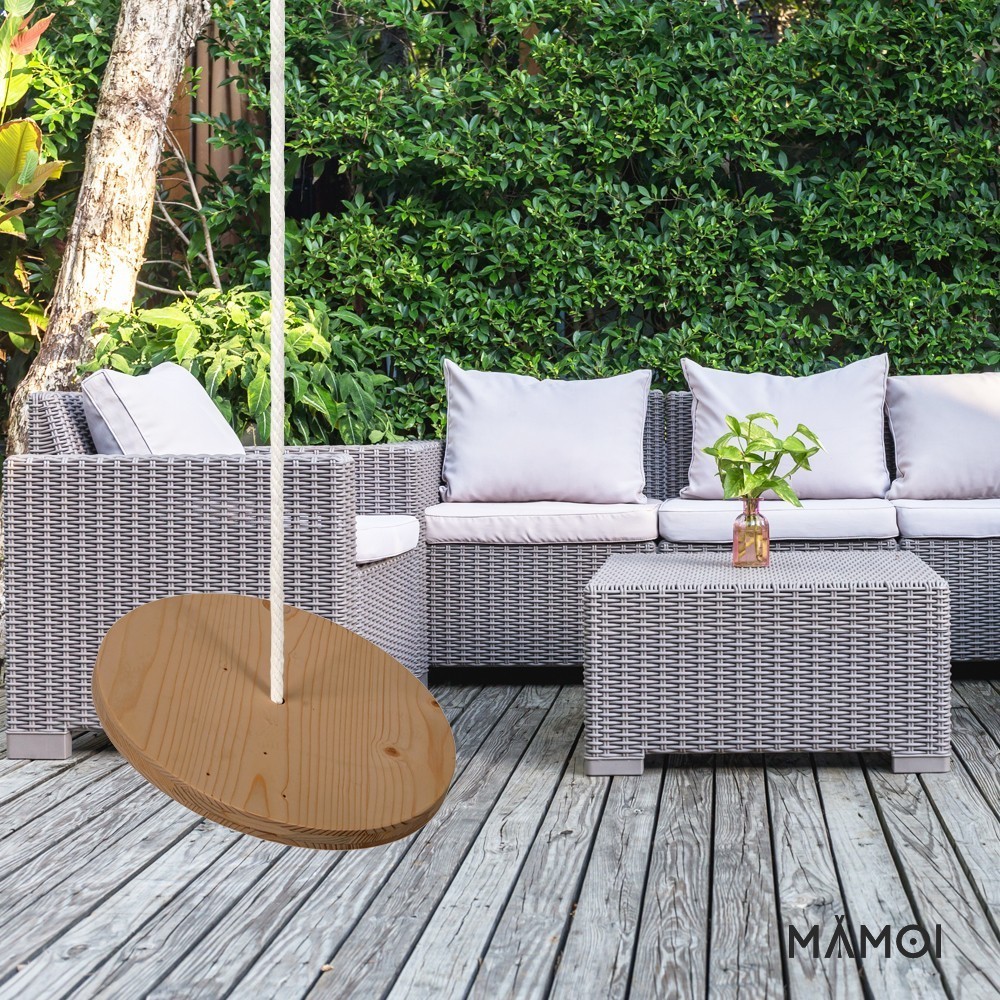 ✔ NATURAL: The wooden round rope swing with height adjustment is the first 100% natural swing designed and manufactured in the EU. The product is made of PINE AND BEECH WOOD and is perfect for both children and adults. The swing is suitable for children over 6 years old. A multipurpose round swing seat can be used indoors and outdoors.
✔ TESTED AND SAFE: The round tree swing is the only swing of its kind that is 100% manufactured in the EU. Therefore, it also meets the strict safety requirements. The swing can be safely used by children and adults up to 60 kg. The round tree swing is one of the largest toys of its kind; its diameter is 30 cm.
✔ UNIVERSAL: The plate swing has the LENGTH ADJUSTABLE ROPES, which allows it to be hung from door frames, a ceiling or a tree. Thanks to the sideways swinging as well as a central centre of gravity, the product also helps to train and build core muscles as well as arm and abdominal muscles. The paints we use are 100% safe for children.
✔ Due to the size of the wooden round rope swing, it can be comfortably used by both children and adults. Over 80kg loadable wooden seat part and over 400 kg loadable adjustable ECO cotton support rope offer complete safety as well as the highest product quality. At the same time, the product is entirely natural and environmentally friendly. The round rope swing can be mounted on the tree or in the door frame at the height of 200-270 cm.
✔ MAMOI GUARANTEE: 100% money-back guarantee – at MAMOI, the highest quality applies to the products as well as to our customer service: If you are not satisfied with our product, we will refund your money.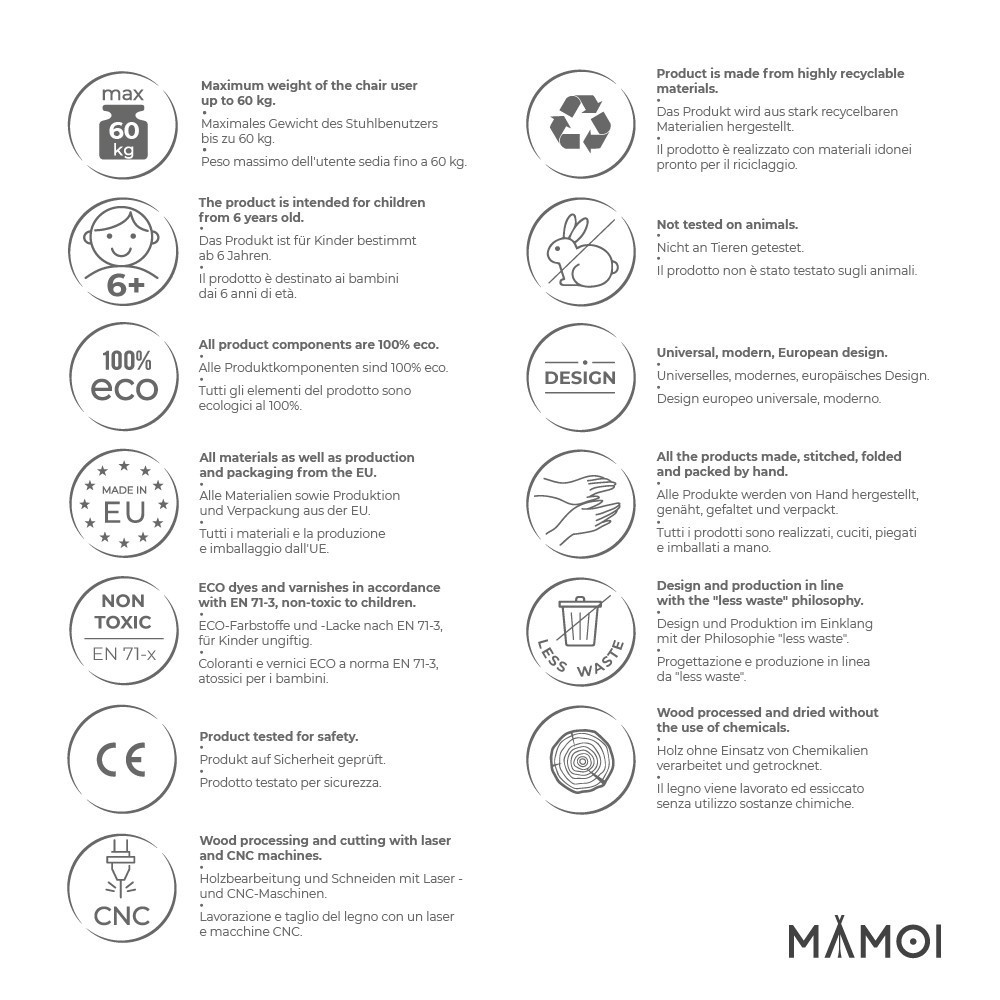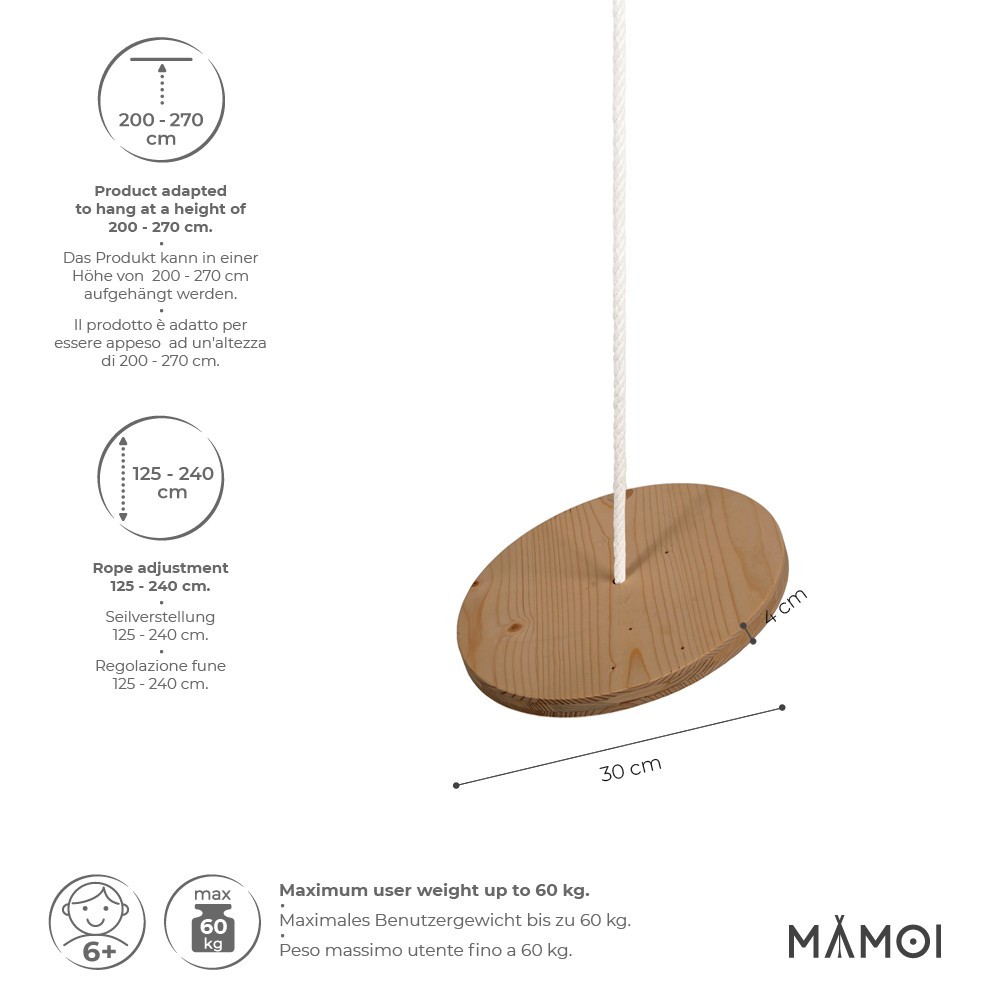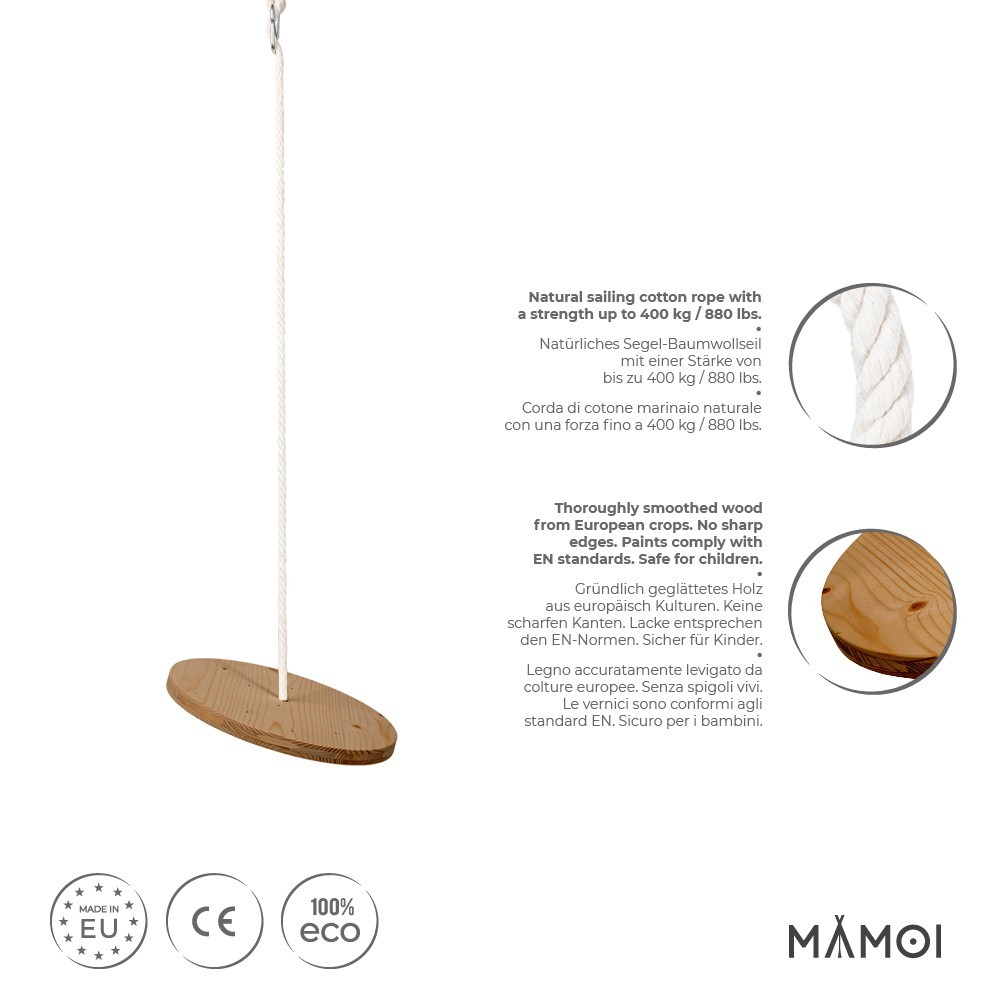 We also recommend the GHOOK hook set to mount the swing or the GHOOK harness with shoulder protection to mount the swing on a tree. These MAMOI brand products are available on Amazon.
The significant advantages of the MAMOI children's round rope swing are its versatility, naturalness, and modern design. The round swing seat for children can be installed in any room or part of your home: child's room, living room, veranda and terrace, tree in the garden, or playground. This universal toy helps to develop the muscles responsible for correct posture and supports general physical fitness. And all of this while having fun!
Size of the round rope swing:
Size of seat: diameter of 300mm.
The thickness of the seat: 20mm
The adjustable ropes allow the product to be mounted on the tree or in the door frame at the height of 200-270 cm.
Before each use, tighten the knots and check the elements.
The swing is suitable for indoor and outdoor use.