MAMOI® Wooden slide for climbing frame, Indoor baby gym accessories for kids, Small and big toddler slide for climbing triangle, Outdoor child's slides for garden, Childrens montessori toys
€84,99
Shipping from

€

5,00 to Poland
Delivery time: 5 days
Color

:

Natural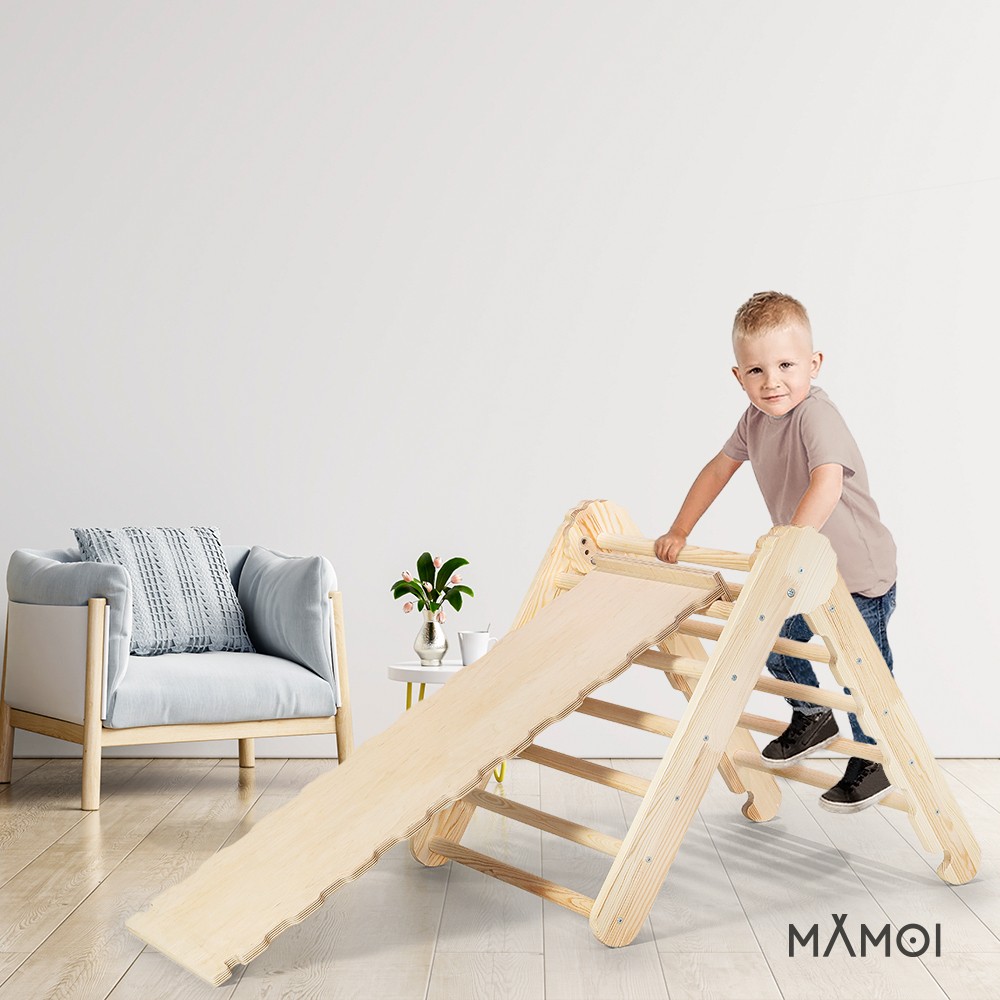 ✔ The kids slide is made of high quality plywood. On one side the indoor slide has a smooth board, on the other has climbing handles on which the child can climb. The included handles for the baby slide are made of sturdy concrete. Their colors are blue, green, peach and beige.
✔ The wooden slide is made of high-quality plywood. The materials are completely safe for children as well as our environment. No toxic paints or paints were used in the manufacture of the child's slide. The elements are carefully sanded so that there are no splinters on the wooden surface.
✔ The kid slide as an addition to the climbing triangle as a supplement to the climbing triangle requires the installation of climbing holds. Both sides are made of smooth plywood. The openings allow the slide to be connected to other elements, e.g. B. with a wall bars or a climbing triangle. Childrens slide is suitable for children from 3 years of age. The structure can be loaded with up to 50 kg.
✔ The toddler slide indoor is characterized by a simple, minimalist design in Scandinavian style. Light wood suits any decor. The rounded elements feel comfortable themselves and guarantee safe playing. The slide can be combined with other MAMOI toys.
✔ The product can be used outdoors but should be stored only in a dry and clean place. Due to the natural materials used, it cannot be exposed to difficult weather conditions such as rain or snow. The manufacturer is not responsible for non-compliance with the storage conditions of the toy instructions. Due to the natural character of the wood, grain and colour differences may occur, which is not subject to complaints.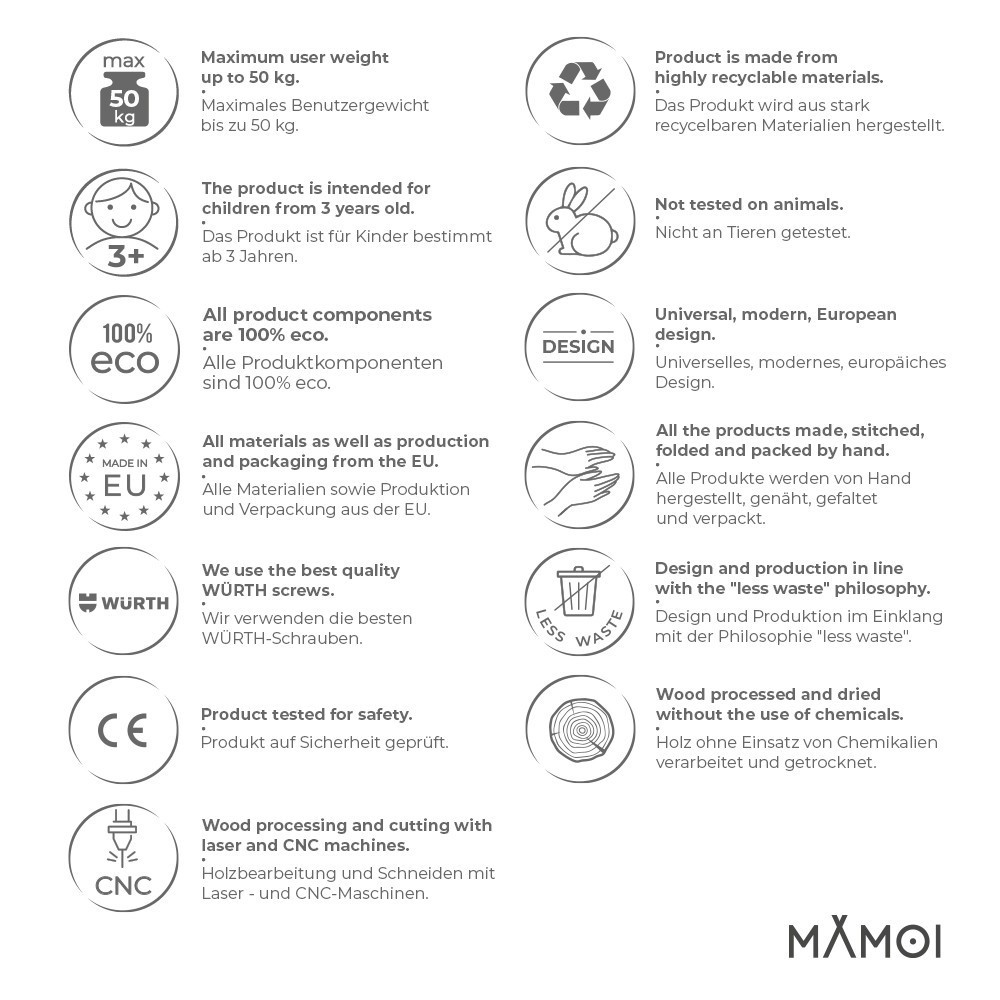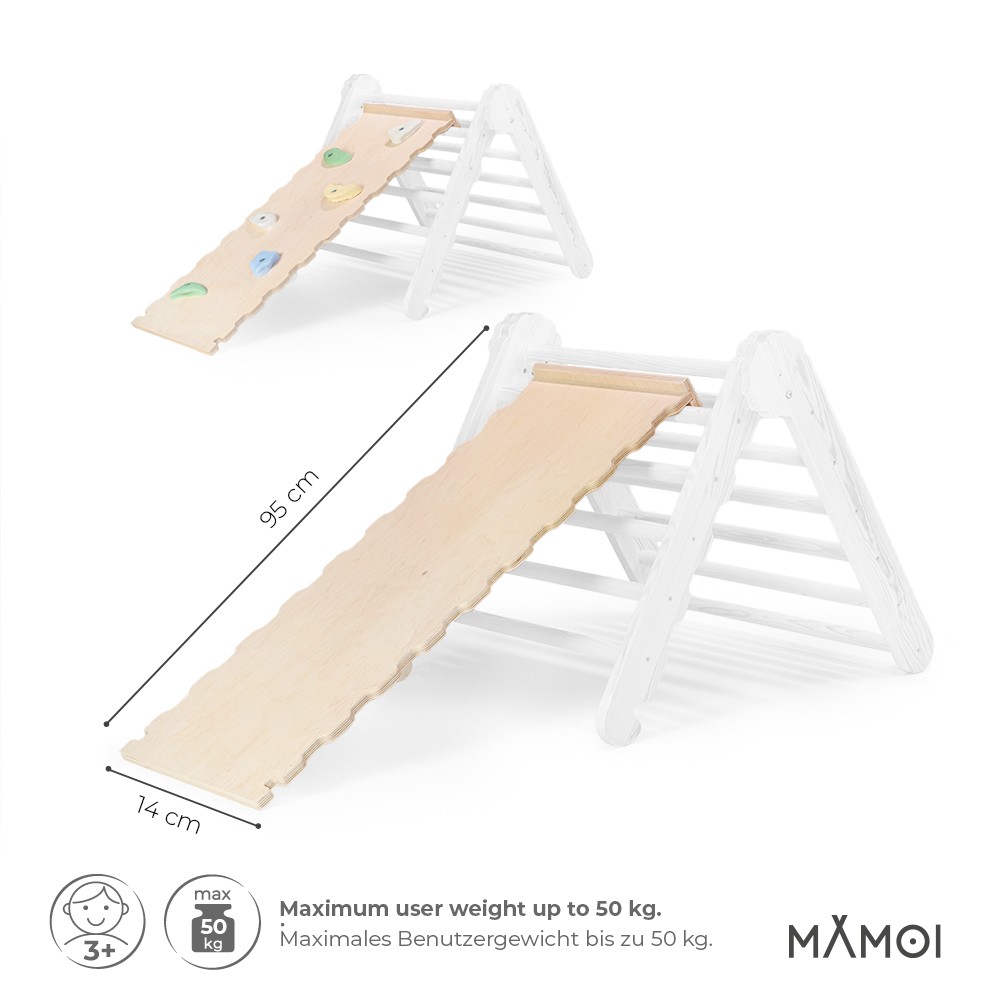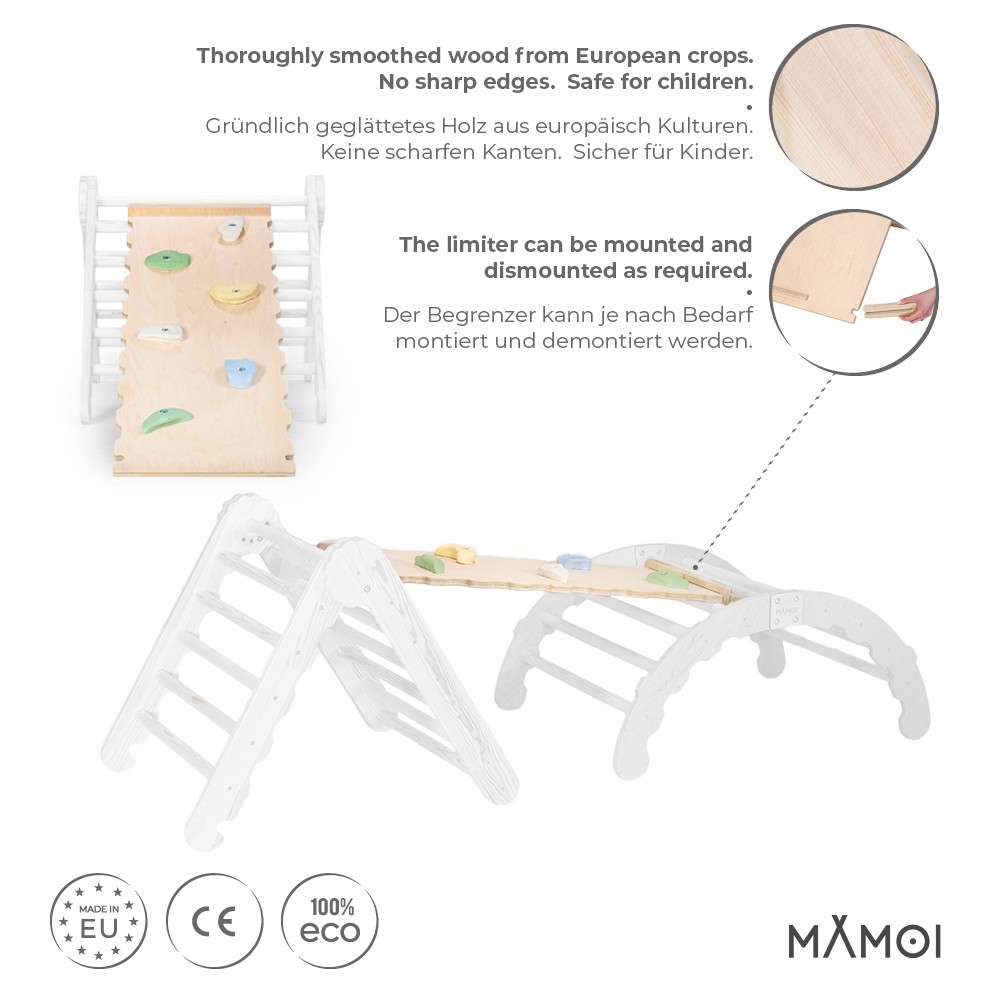 The slide board kids is a versatile element that can be used not only as a ladder, but also as a slide. The design allows the indoor slide to be quickly connected to other toys. You only need to hang the board at the desired height using available indentations. The set contains elements to protect against falling down the slide, easy to install and remove.
Dimensions: 95x36x5,5 cm
Maximum load: 50 kg
The wall bars sliding board is made of high-quality CNC-cut plywood. It ensures every edge is smooth and safe for kids. The wooden children's slide has openings on both sides for attaching the slide.
Assemble the kids slide according to the instructions included with the kit. Before playing, make sure the construction is stable. The wood can be cleaned with a mild detergent and a slightly damp cloth. In order to protect the baby slide, it should be set up indoors and not exposed to the weather. The manufacturer cannot be held responsible for non-compliance with toy storage regulations.
Also known as: baby climbing frame, climbing frame accessories, garden slide, kids slides outdoor, outdoor slide, small slide, big slide, montessori toys 6 months, toddler slide outdoor, baby gym