MAMOI® SET in white: Climbing frame, triangle and slide, Indoor wooden baby gym for toddlers, Toddler rockers, Climbers & play structures montessori from age 1-3 year old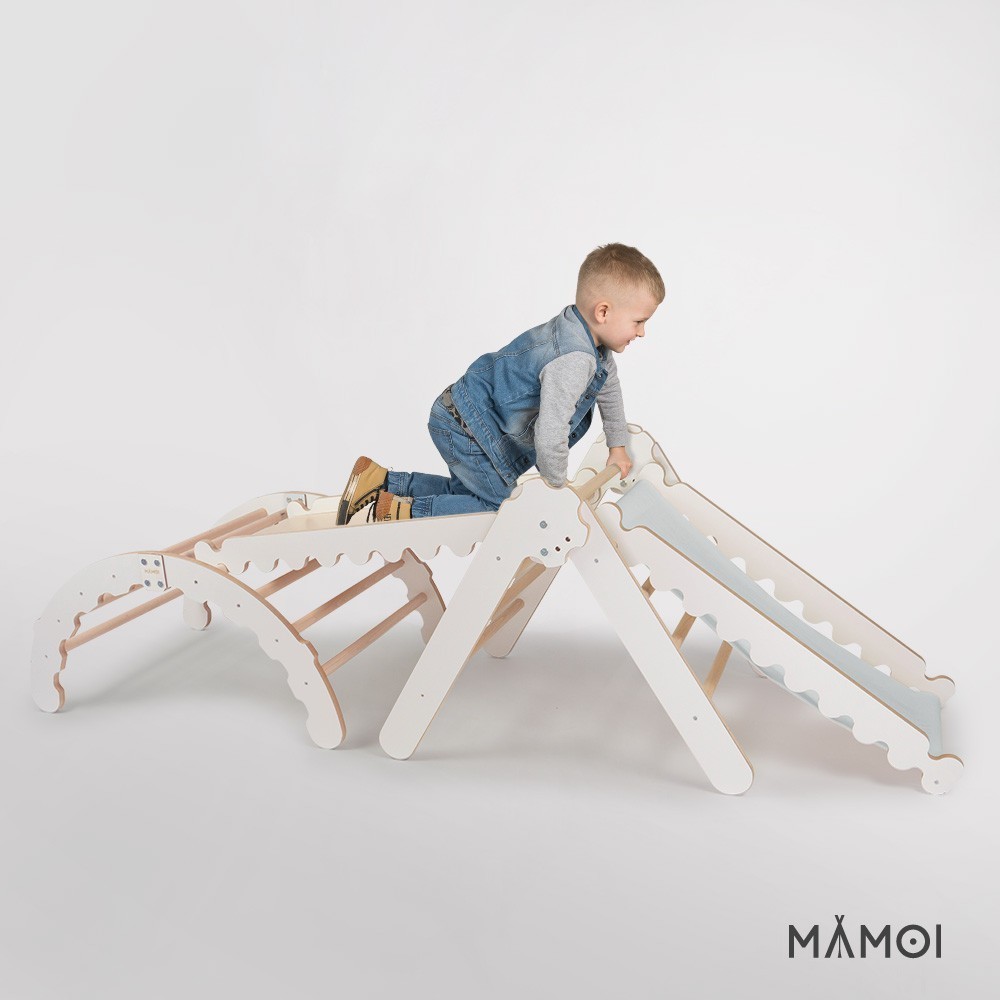 ✔ The climbing frame set with its robust construction can carry a weight of up to 130 lbs (60 kg). The height of the climbing triangle can be adjusted from 20 to 57 cm. The toddler climbing frame (height 39.5 cm) can be used as a ladder or cradle. The elements of the indoor climbing frame are fixed with Ericson nuts with a flat head which are fully safe for children's hands. The wooden climbing frame indoor meets the strict safety requirements of EN and CE marking.
✔ Our wooden slide has two surfaces: a smooth one to slide down and one with bars to climb up. Notches in the edges on both sides of the toddler slide ensure that the slide can be safely attached at a chosen height. The indoor slide can be fixed to the wall ladder and combined with climbing triangles. Another slide is made of long-lasting cotton fabric in light grey color. The frame is made of durable Yarnwood.
✔ The baby climbing frame indoor set is eco-friendly and safe for children since only organic materials and wood preservatives are used in their production. The wooden play gym set is made of high-quality Yarnwood, plywood and beech wood rods.
✔ The wooden baby gym has a natural finish (white Yarnwood) which fits in every room. Rounded CNC-cut elements are smooth to the touch and allow children to play safely. Both ladders and slide have beautiful details and wave-shaped cut-outs. The combination of slide, ladder and cradle makes an obstacle course.
✔ The product can be used outdoors, but should be stored in a dry and clean place. Due to the natural materials, it must not be exposed to adverse weather conditions such as rain or snow. The manufacturer is not responsible for non-compliance with the storage conditions of the toy instructions.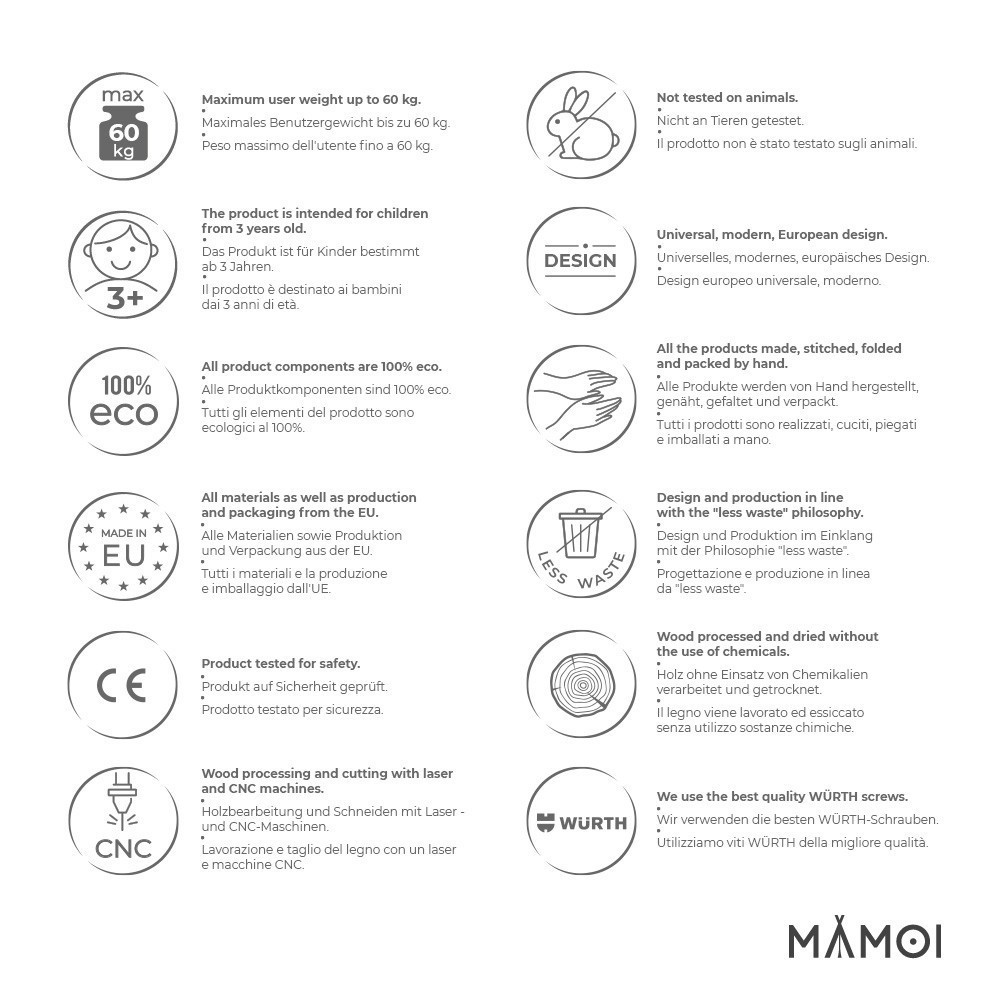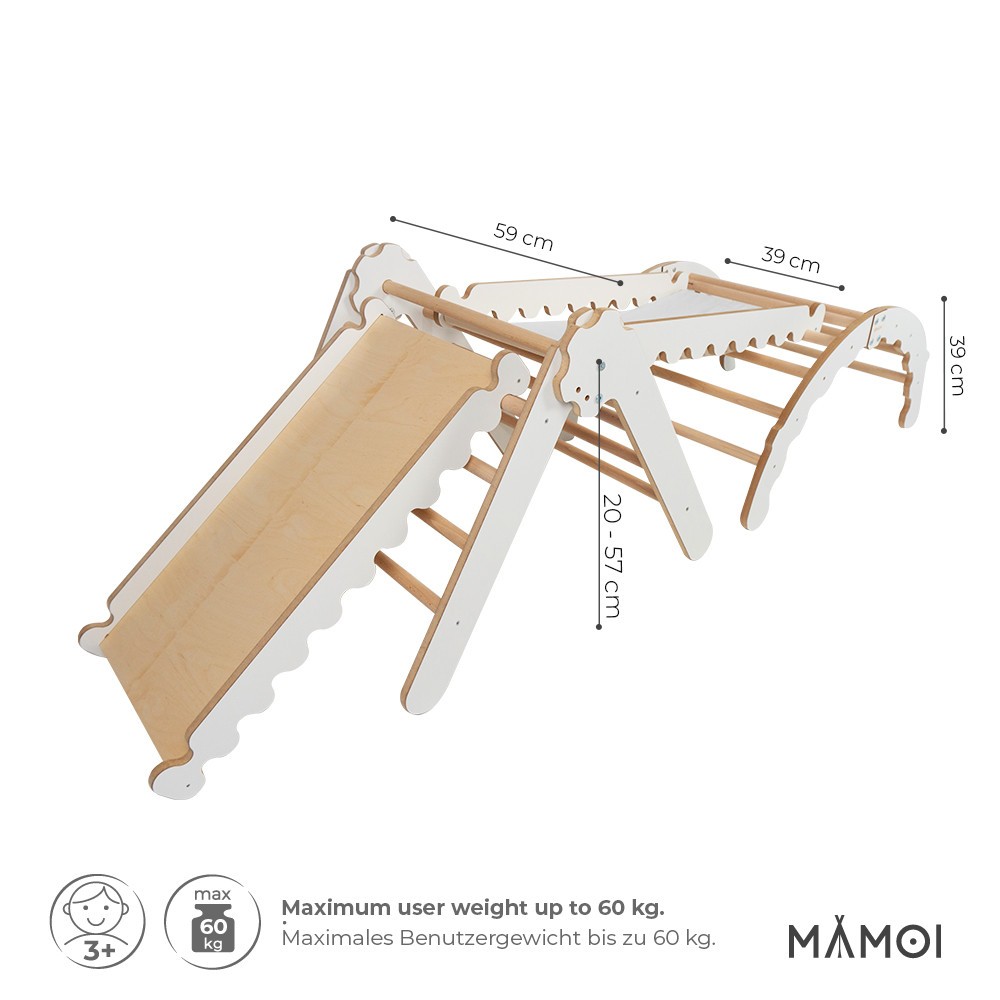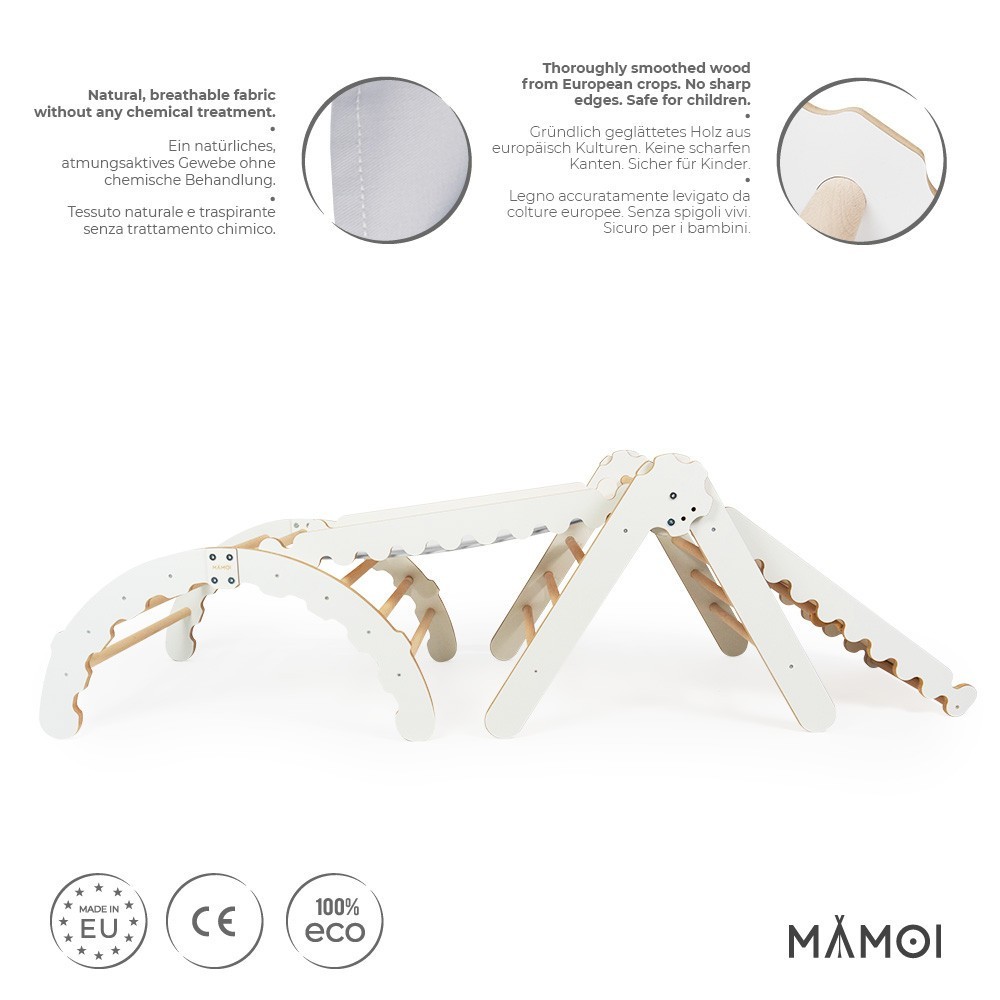 The MAMOI brand focuses on creating unique products and toys dedicated to the youngest children.
Let us suggest you a set: climbing triangle, climbing frame and slide for climbing ladder, made of white Yarnwood and CNC-cut plywood. The bars are made of beech wood. The indoor climbing frame for toddlers meets all strict European quality standards to ensure it is safe for your children. At the same time, it is very durable. The baby climbing frame set is recommended for kids over 36 months and older children.
– Climbing triangle (for self-assembly) can be adjusted in the range of 20 to 57 cm. The pieces are joined using Ericson flat nuts, which are safe for the child's hands. The toy can hold up to 130 lbs (60 kg).
– Climbing frame (for self-assembly) can be used as a climbing ladder or as a rocking triangle, depending on the position. The cradle is secured against tipping over. Toy is 39.5 cm high and can hold up to 130 lbs (60 kg).
– Slide (ready to use, no assembly required) is a versatile item that can be used as a ladder or a slide. The design allows the slide-board to be quickly connected to a climbing ladder or trapeze. It is enough to hook the board on the bars at a chosen height using the notches at the edges.
The toddler climbing frame set can be combined with separate play mats. Climbing up the rungs supports your child's psychomotor development and improves the muscle strength!
Also known as:baby rockers, kids' indoor climbers & play structures, climbing frame for toddlers age 1-3, indoor slide for toddlers age 1-3, montessori climbing frame, pikler triangle with slide, baby slide 1 year old, gorilla gym