MAMOI® Indoor climbing triangle with slide for kids, Baby climbing frame, Wooden toddler gym for children outside and outdoor, Frames and slides, montessori toys for toddlers age 1-3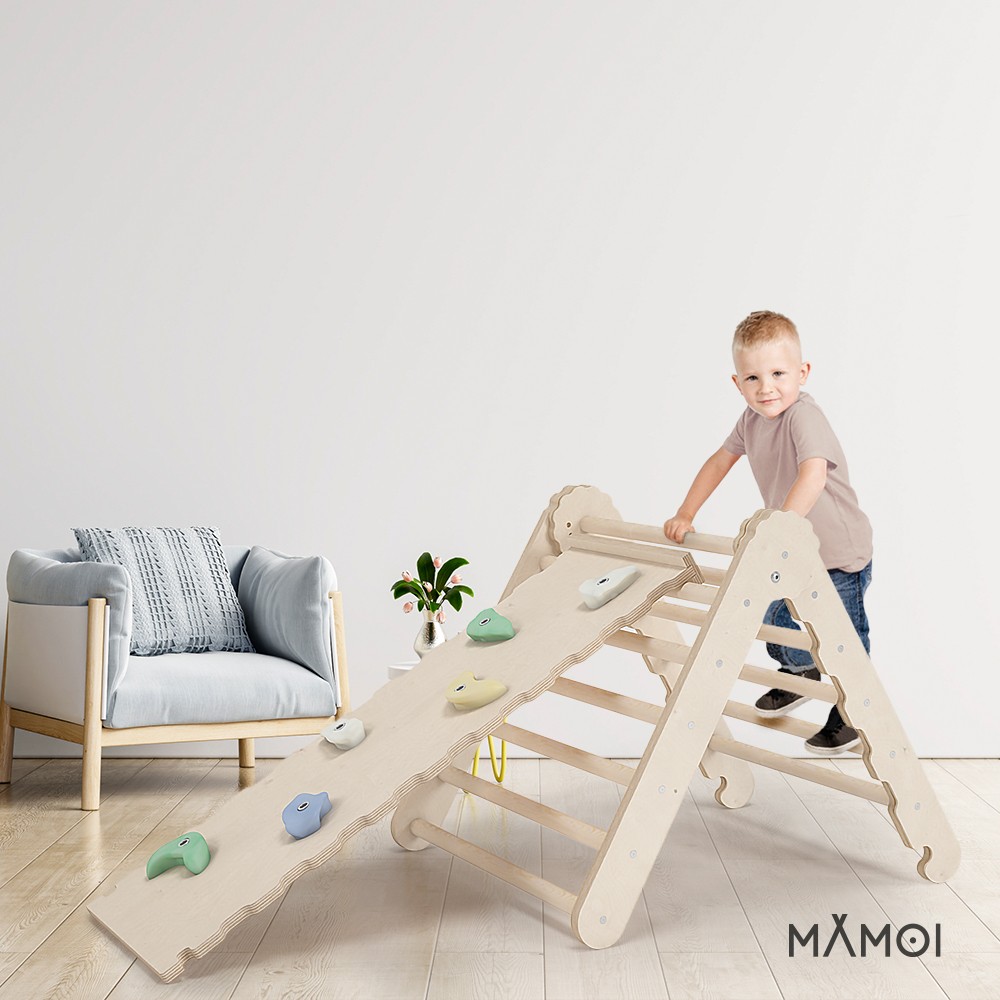 ✔ The indoor climbing frame for toddlers with indoor slide is made of top quality plywood and the included handles for the slide are made of durable glass fibre reinforced concrete. The toddler climbing frame can carry a load of up to 50 kg, ensuring stability and safety during the child's play. All handles and bars have smooth edges and provide a solid grip.
✔ The climbing triangle with kids slide is fully made of materials safe for children and the environment. Baby climbing frame is designed for indoor installation such as playroom, children's room. The glass fibre reinforced concrete handles and wooden rods guarantee strength and a good grip.
✔ Kids climbing frame requires self-assembling. The elements included in the set are manufactured with great precision and care making it easy to assemble. The set consists of sides, bars, slide elements, 6 handles and screws. Toddler climbing frame indoor is designed for children over 3 years old. Children can climb, practise making complex figures and develop their muscles.
✔ The simple and universal design will work in any children's room. The toddler gym is made of light pine wood, which makes it universal and perfectly matches the pastel shades of the handles (blue, green, peach and beige).
✔ The product can be used outdoors, but should be stored in a dry and clean place. Due to the natural materials, it must not be exposed to adverse weather conditions such as rain or snow. The manufacturer is not responsible for non-compliance with the storage conditions of the toy instructions.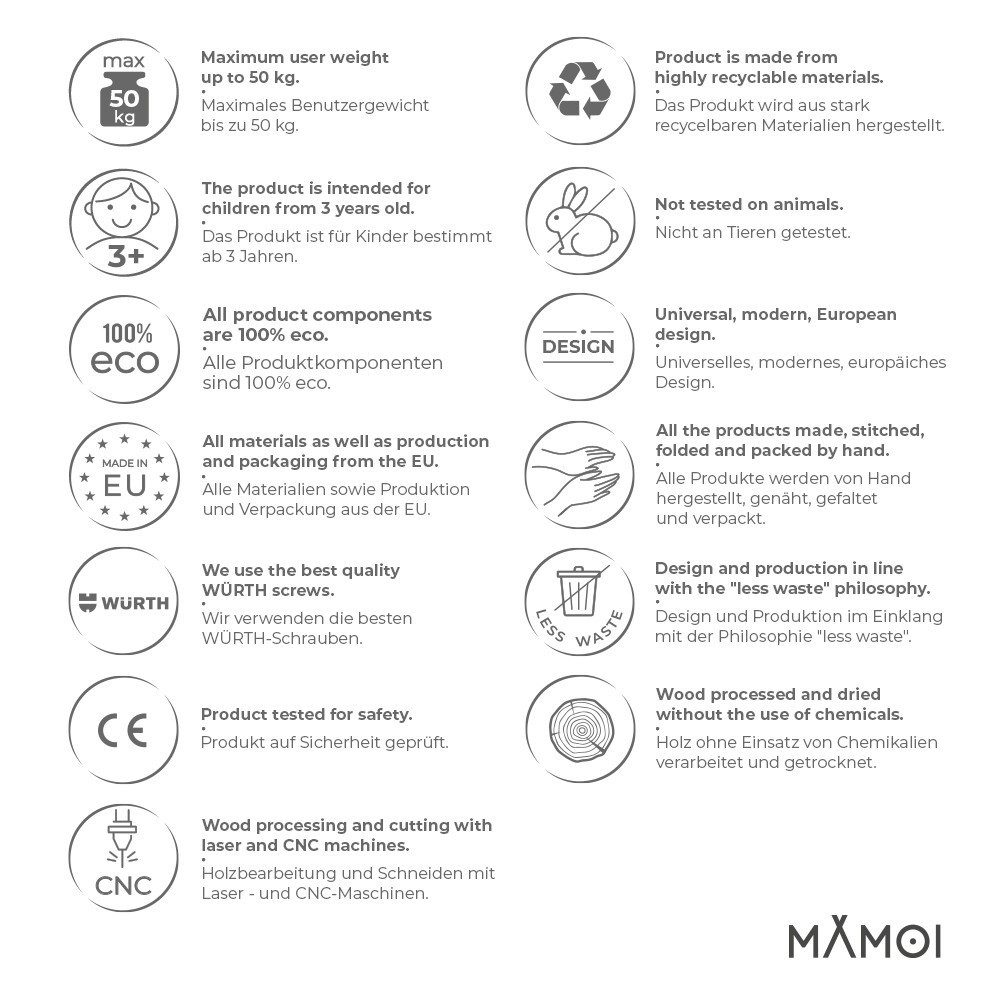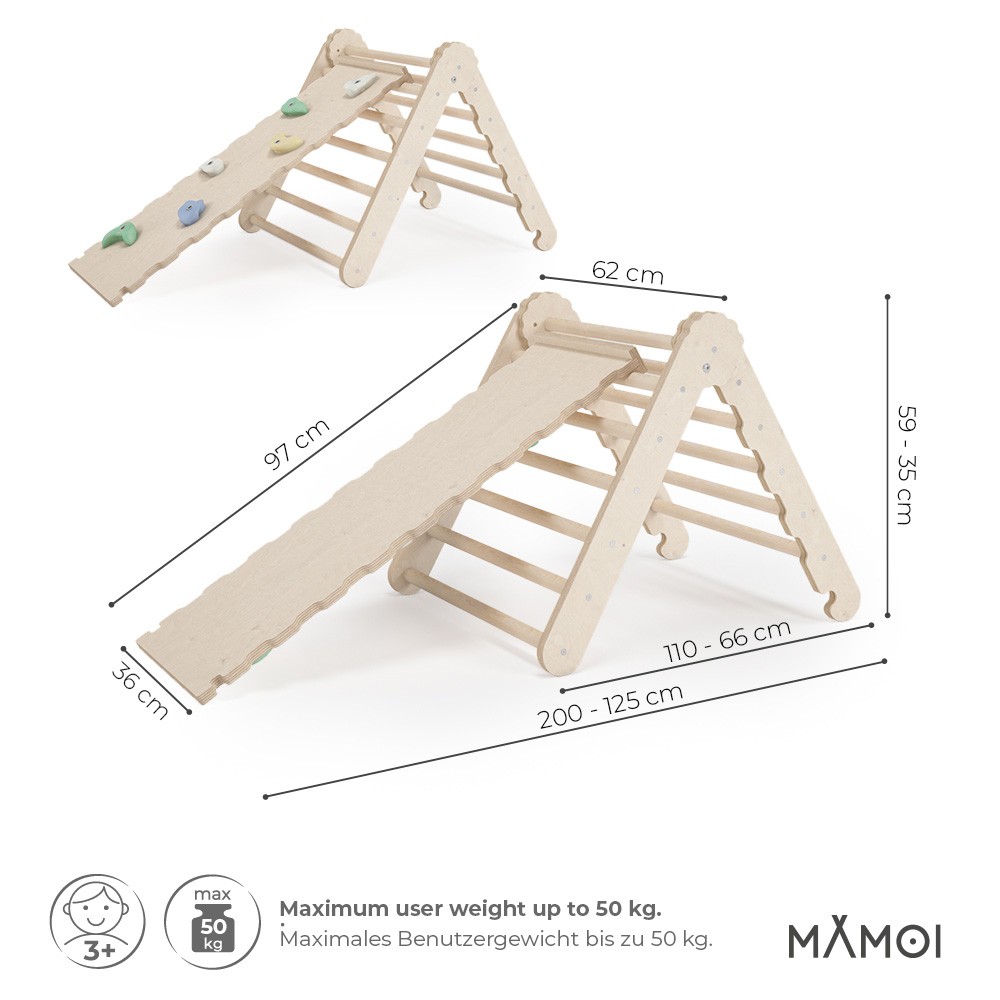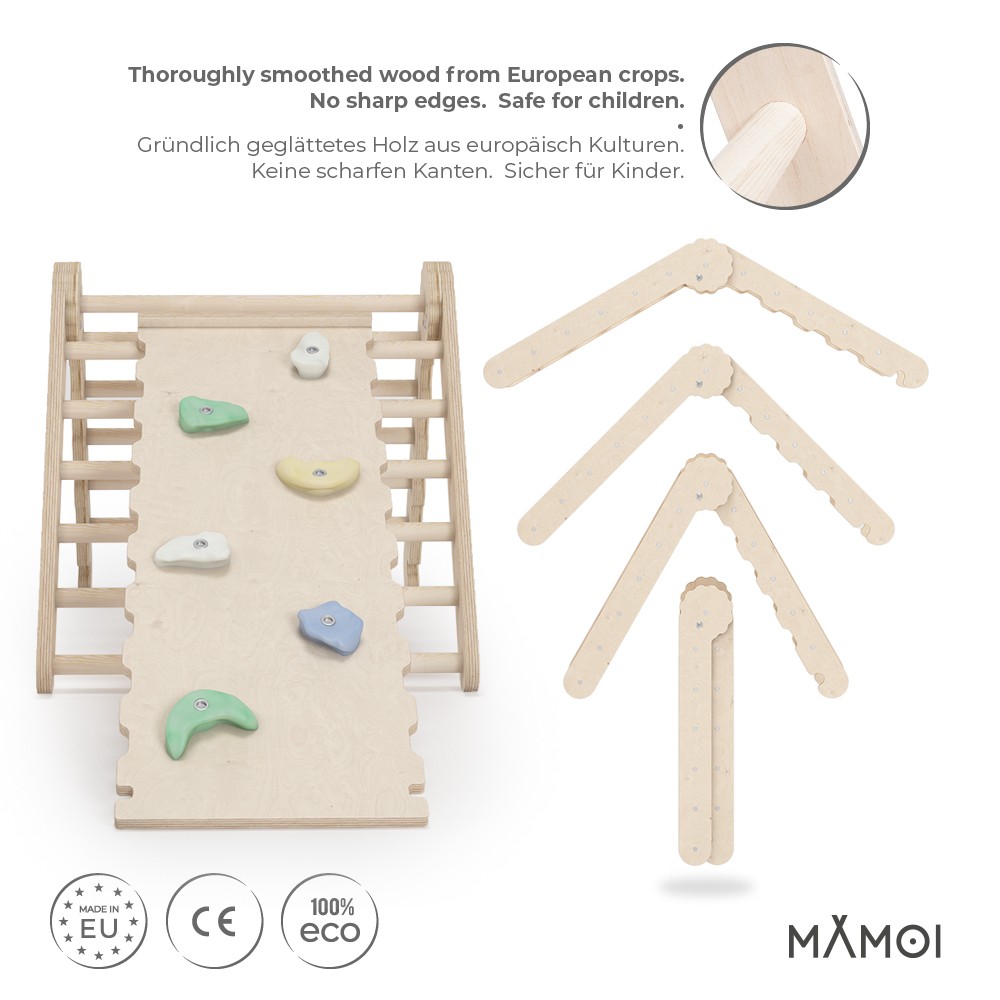 The wooden climbing frame indoor is dedicated to active and energetic children. Its versatile use allows for the development of muscles during play and supports motor coordination. The climbing frame with slide holds up to 50 kg and can be used by children over 3 years old.
The childrens climbing frames outdoor is made of natural plywood and sturdy glass fibre reinforced concrete handles. This guarantees a sturdy construction and safety during play. The sanded and smooth edges are completely safe for the child. The set includes sides, rods, slide elements, 6 handles and screws. The Indoor Climbing Frame is designed for self-assembly. It is perfect for a child's room or playroom. Its universal wooden colour and pastel shades of handles (blue, green, peach and beige) – will fit perfectly into any interior. The climbing triangle is a toy particularly attractive for children who like movement and challenges.
Dimensions:
Plywood thickness: slide – 1.8 cm, triangle – 2.1 cm
Assembled slide: 36x97x5.5 cm
Triangle: 59x62x66 cm (min)
Triangle with slide: 59x62x200 cm (max)
Also known as: wooden play gym, pikler triangle with slide, kids' indoor climbers & play structures, pickler climbing triangle, montessori toys, climbing frames for children outside, climbing frame for toddlers age 1-3, climbing frame slides