MAMOI® Wooden balance board for kids with beige cushion , Rocker seesaw, Baby balancing games, Toddler balance game, Wobble board, Play equipment for children, montessori sensory toys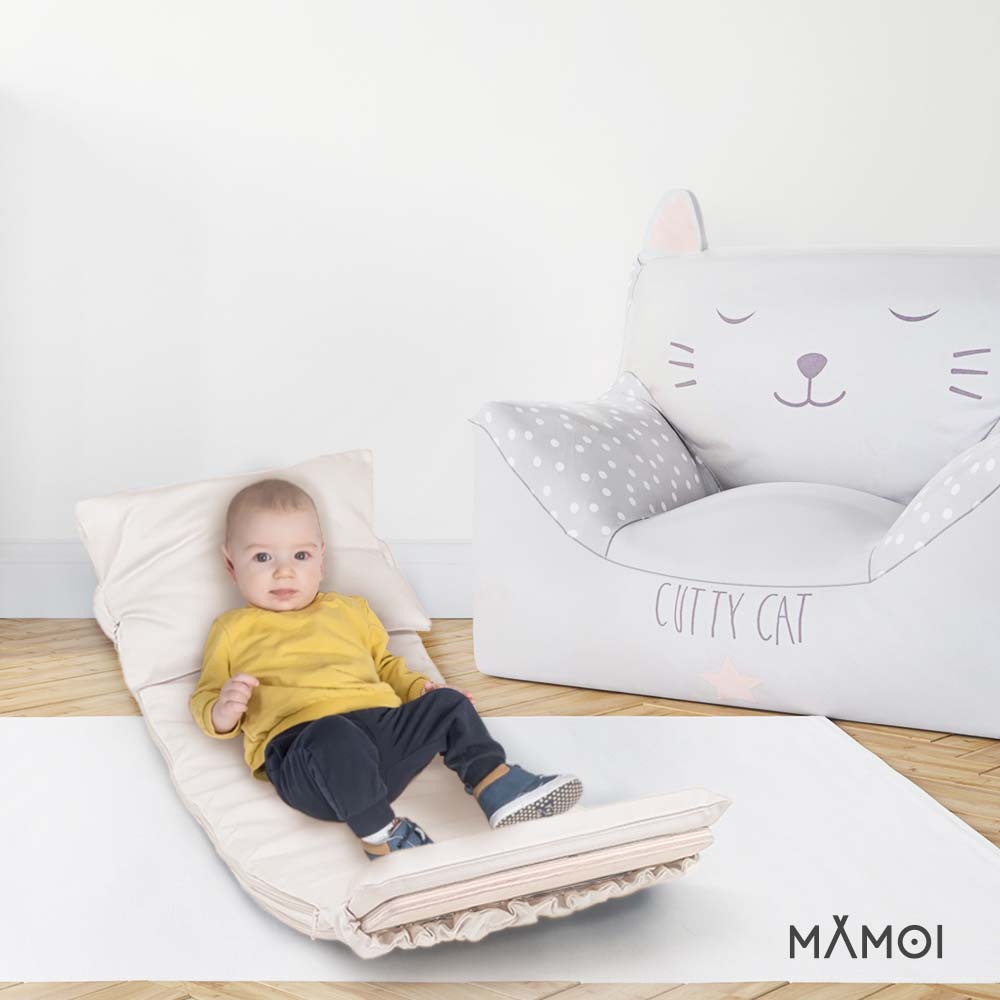 ✔ Balance board kids is a unique toy that will develop your child's muscles. It is made of strong plywood and a cotton mat and cushion filled with foam. The whole is secured with an elastic band that prevents slipping and keeps the material elements in a fixed place. The wobble board kids can support a load of up to 100 kg, so it can also be used by teenagers and adults. Wooden balance board stimulates curiosity and influences the physical development of the child.
✔ Balance board toddler is made from products that are completely safe for children and the environment. The board will not bend or lose its shape. Kids seesaw is designed for use inside the house – playroom or children's room. The mat and cushion guarantee comfort and softness.
✔ Rocker board is ready to use. It is dedicated for children from 6 months of age. The set includes a balance board, a mat and a cushion. Children can rock, exercise their leg muscles and catch verticality and stability. The seesaw for children can also be used to relax after playing.
✔ The simple and modern design is universally suitable for any children's room, playroom or living room. The wooden balance board kids is made in a light wooden shade – making it look timeless. The beige colour scheme of the mat and cushion looks aesthetically pleasing and will fit in perfectly with your interior décor.
✔ The product can be used outdoors, but should be stored in a dry and clean place. Due to the natural materials, it must not be exposed to adverse weather conditions such as rain or snow. The manufacturer is not responsible for non-compliance with the storage conditions of the toy instructions.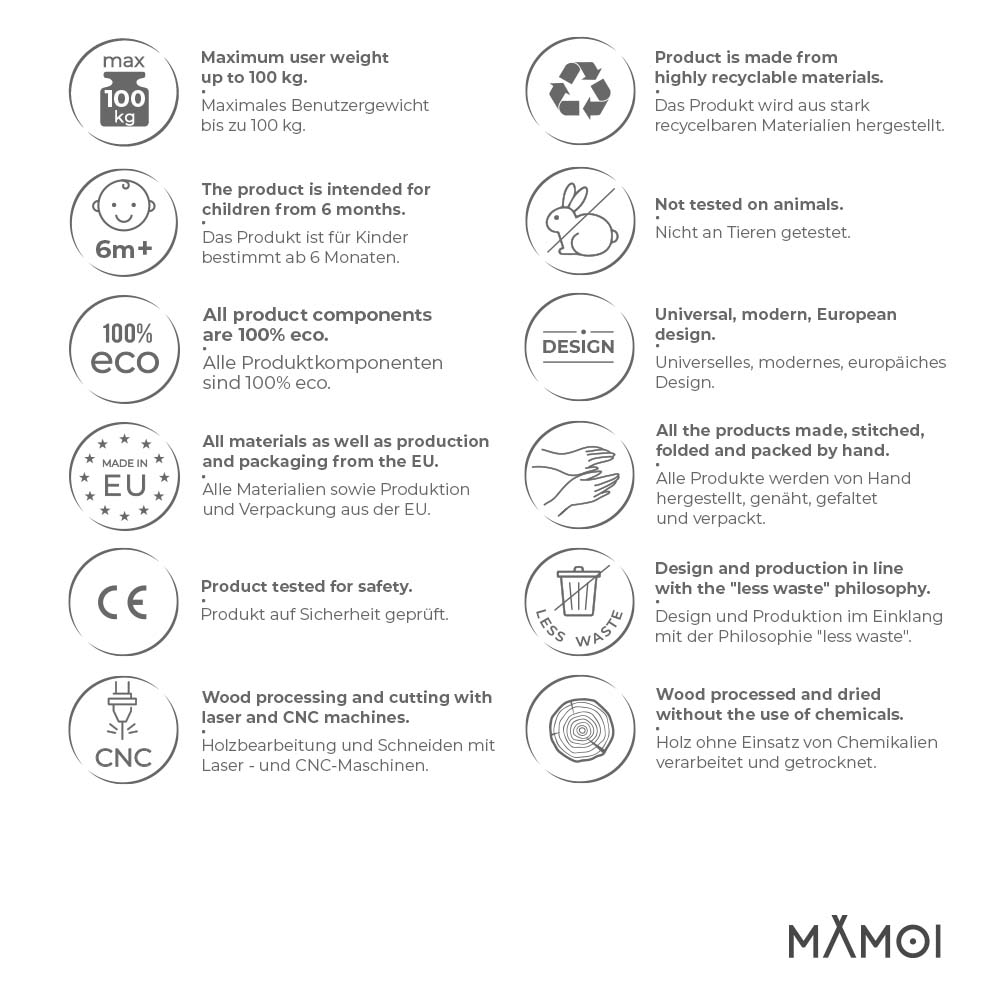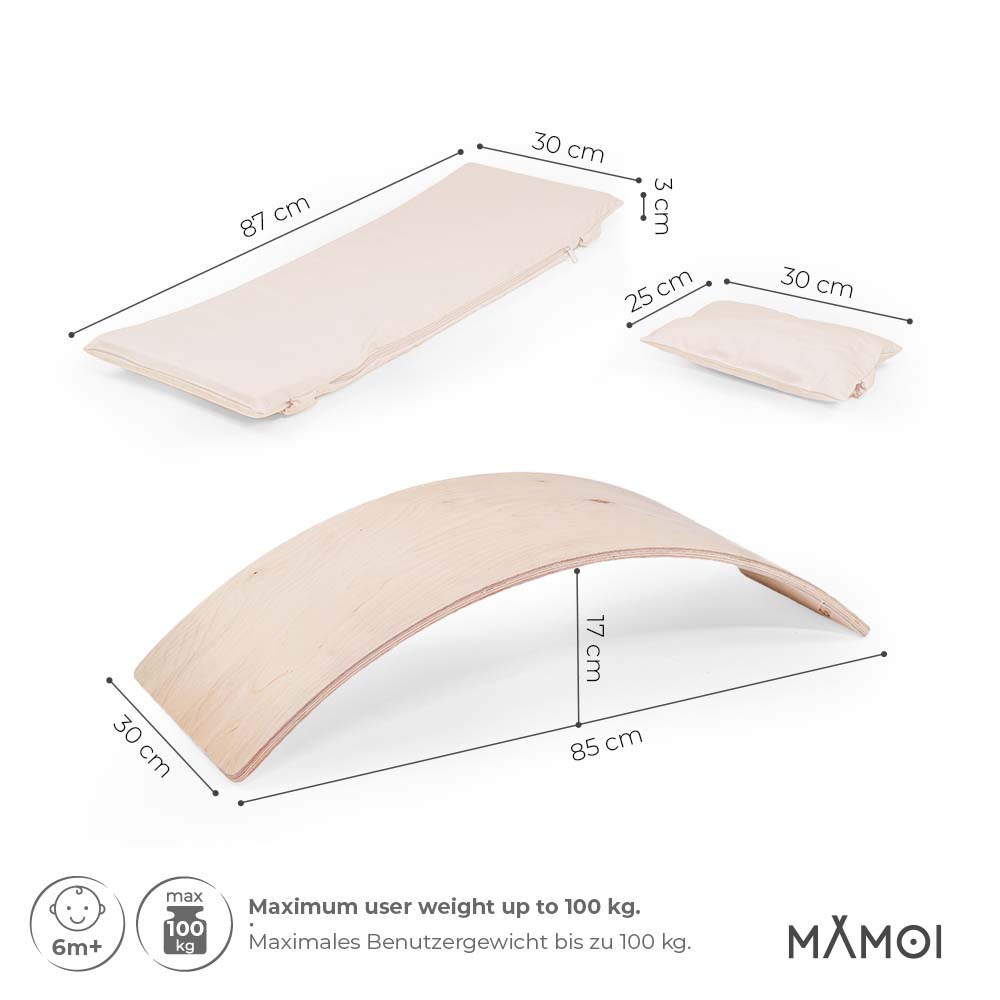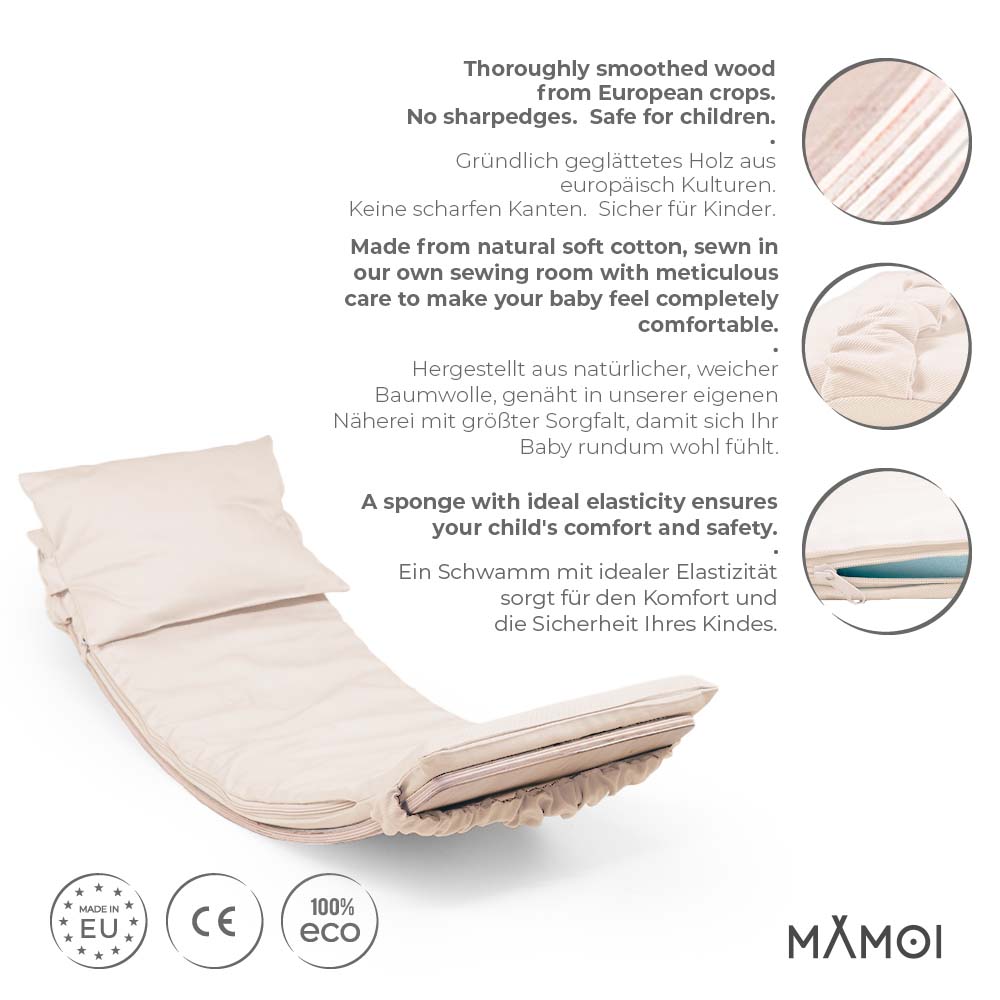 The MAMOI balancing games for kids are dedicated to children who like both active and quiet play. It can be used by toddlers from 6 months of age. Wobble toys baby are ready to use and can be used in a child's room, playroom, bedroom and living room. Children have the option of rocking slightly or strongly, standing up and staying upright. The fun promotes the development of the whole body – mainly healthy and strong leg muscles.
Kids balance board is made of sturdy wooden plywood. This guarantees stability and safety during play, and the board is resistant to bending and shape change. The mat and cushion made of cotton material and filled with foam provide comfort and convenience and adjust to the little body. The set includes balance board, mat and cushion. The mat has a zipper so that the fabric can be easily removed for cleaning.
Balance boards will hold a load of up to 100kg, giving children and teenagers the opportunity to play, while adults can use the board for a moment of relaxation and rest. The mat gives an aesthetically pleasing look and will match any décor. The board looks modern and timeless.
Dimensions:
Height : 19 cm
Balance Board: 2.1x30x85 cm
Cushion: 30×25 cm
Mat: 3x30x87 cm
The balance board is designed for use according to the enclosed manual. Please check the stability of the product before playing. The board can be cleaned with mild detergent and a slightly damp cloth.
Also know as: balance game, balance toys, wobble board kids wooden, outdoor play equipment for children, montessori sensory toys